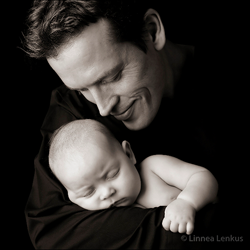 My process is very organic and not contrived with props
Los Angeles, Ca (PRWEB) July 31, 2014
Linnea Lenkus is not just one of the top portrait photographers in Los Angeles. She owns two portrait studios that she manages both the creative and technical aspects of. She owns and curates Linus Galleries, an art gallery she started in 2011. Last but certainly not least she is a wife and a mother of 3 very active children that she also home schools. With all of the day to day activities involved with running two successful businesses and creating a diverse and rich environment for her kids to learn in, the one thing the fine art photographer does not have time for is sugar coating.
The veteran photographer, best known for her clean aesthetic and sophisticated lighting, was recently criticized on Facebook for a post commenting on her frustration with newbie photographers and the work that they feature on their websites. "I didn't advertise my work until it was polished and I feel like the web is flooded with a lot of mediocre photography. Everyone has a camera now and a lot of people are prematurely calling themselves photographers," Lenkus explained. "I'm not trying to be negative; I just think it is a disservice to those in search of fine art photography. If mediocrity is what seems like the standard then that is all people will expect."
In an effort to preserve the quality of her photography as an artist Linnea Lenkus continues to only show the portraits that reflect the brand she has worked over two decades to make. Lenkus said that occasionally she will get a client that wants her to copy something that they saw on Pintrest or incorporate a bunch of props, which she never uses. "They think it is creative, but I see nothing creative in that," Lenkus said. The photographer shares that during a portrait session she needs to be fully present in order to create her best work. "My process is very organic and not contrived with props. I concentrate on setting the perfect lighting and tapping into the feelings of my subjects, most of which are experiencing very heartfelt emotions such as pregnancy or a new baby. I witness these moments and capture them with my camera." The award winning photographer says it's a straight forward approach that took her years to perfect.
"I have strong opinions and I have the experience to back it up," the photographer said. Lenkus concluded that she hopes that her critique of mainstream photography pushes and inspires those hoping to become great photographers. Lenkus continues to preserve the high standard that should be associated with fine art photography by creating stunning portraiture in her two Southern California studios.
About Linnea Lenkus
Los Angeles photographer, Linnea Lenkus, specializes in Maternity, Children, Family and Celebrity photography as well as Fine Art Boudoir photography. Linnea is a highly experienced, internationally published, professional photographer with worldwide commercial success. In a photography session with Linnea, clients receive the benefit of her artistic eye and her technical mastery honed over decades of photography experience. Linnea Lenkus is the owner of two fine art portrait studios located in Pasadena and Long Beach California and the owner and curator of Los Angeles art gallery, Linus Galleries. See a photography video of Lenkus in action.