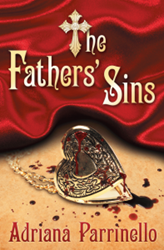 Eventually Laura learns to trust again, helped by the warmth of her new adoptive parents and sister.
WASHINGTON, Mich. –
(PRWEB) July 30, 2014 -- When their father unexpectedly comes home in a good mood, full of smiles and kisses, his children don't know what to make of it, but their delight at leaving their shabby home for a new, brighter future quickly dims when men burst through the door and start shooting. When it's all over, Laura's father and two sisters are dead, notes this new novel, leaving Laura as the sole survivor. Her struggle to survive includes a mysterious young man, adoptive family and unexpected setbacks.
"The Fathers' Sins" stars Laura, who has just lost another parent. She and her older sister, Patty, cared for their younger sister in the wake of their mother's death in childbirth. Now she must face the loss of everyone she holds dear. She encounters a man named Tony who seems like a dream come true and they begin to fall in love. But Tony has a secret and transforms into someone Laura doesn't recognize, threatening her security and faith, and she leaves.
Eventually Laura learns to trust again, helped by the warmth of her new adoptive parents and sister. An unexpected accident claims a life, and Laura finds people from her past have again entered her present. A chance for love and redemption may be possible, but it will take courage, faith in God and a miracle to help it become a reality.
Author Adriana Parrinello, the youngest of five children in a traditional Sicilian family, grew up in the suburbs of Detroit. Although she began writing a novel while in her teens, she wasn't able to finish it. She began writing again when her husband, Matteo, helped care for their three children, combining her passion for writing with her faith. Parrinello has finished the sequel to "The Fathers' Sins" as well as the third novel in the Christian-inspired series. She is already working on a prequel to the first book.
----------
For additional information, please visit http://www.adrianaparrinello.com.
The Fathers' Sins
Adriana Parrinello
Dog Ear Publishing
ISBN: 978-1-4575-2867-5 324 pages $17.95 US
Available at Ingram, Amazon.com, Barnes & Noble and fine bookstores everywhere.
About Dog Ear Publishing, LLC
Dog Ear Publishing offers completely customized self-publishing services for independent authors. We provide cost-effective, fast, and highly profitable services to publish and distribute independently published books. Our book publishing and distribution services reach worldwide. Dog Ear authors retain all rights and complete creative control throughout the entire self-publishing process. Self-publishing services are available globally at http://www.dogearpublishing.net
and from our offices in Indianapolis.
Dog Ear Publishing – self-publishing that actually makes sense.