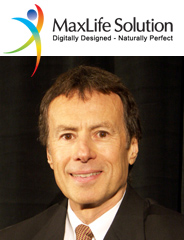 (PRWEB) July 31, 2014
David Kekich, anti-aging icon and CEO of Age Reversal Inc. (http://www.maxlifesolution.com) is thrilled that the acceptance of his revolutionary approach of extracting genetic patterns using proprietary Artificial Intelligence (AI) algorithms and then screening thousands of compounds against genetic networks, has finally gained acceptance.
"It took longer than I thought and millions of dollars, but the proof is in," said Kekich. "Client acceptance is exploding, early clinical trial results look very positive, and the testimonials are glowing!"
Age Reversal's lead formulation, InflaGene addresses inflammation, perhaps one of the most dangerous aging triggers in our bodies. Launched just months ago, InflaGene is the first and only all natural inflammation support nutraceutical to be developed by 21st Century technology. It is now available worldwide. Initially distributed in North America, management has now successfully initiated distribution partnerships throughout Europe and Asia.
ARI is launching other products employing the same ground-breaking AI approach with the mission of controlling obesity, enhancing cognitive processes, and supporting stem cells and telomeres.
Mr. Kekich will be a featured speaker at The Genius Network 2014 Annual Event in Newport Beach, CA on August 14th, sharing the stage with other business and social leaders such as Daymond John, Arianna Huffington and many others.
About MaxLife Solution
MaxLife Solution is a Newport Beach, CA nutritional supplement company dedicated to reversing the human aging process by identifying and supporting emerging medical technologies.
Their revolutionary Artificial Intelligence system helps discover and match genetic patterns and compounds. Using this system, they are able to analyze massive amounts of biological data, more than humans can possibly do, and formulate natural nutritional supplements for specific targets. For more information, call 800-727-2888 or visit http://www.MaxLifeSolution.com.