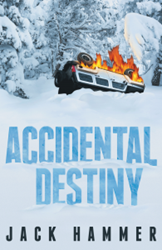 (The book) follows the story of Jack, a self-described "plain vanilla" guy who was in the wrong place at the wrong time.
LONGVILLE, Minn. –
(PRWEB) July 31, 2014 -- Jack Hammer, an average guy retired after a lifetime in education, thinks he's about to be pulled over for speeding but soon realizes the Hummer behind him has no flashing lights and shows no signs of slowing down. Jack finds he's facing more than a ticket – he's facing the end of his life – and doesn't know why in this fast-paced new novel told from Jack's point of view. The divorced retiree soon learns he's in over his head and must do anything he can to stay one step ahead.
"Accidental Destiny" follows the story of Jack, a self-described "plain vanilla" guy who was in the wrong place at the wrong time. As law officials investigate an accident he's involved with, Jack learns the men following him may be connected to a federal narcotics investigation in the Bahamas and an unwitting connection he made while there. Can he outwit the criminals and help law enforcement close the case or will they come after him again? And can he keep everything a secret from his beautiful girlfriend? Set in the wilds of rural Minnesota, this thriller stars the natural world just as much as this unforgettable outdoorsman.
Author Jack Hammer is the pseudonym of Ed Hammersten, who lives in northern Minnesota. The retired educator was born, raised and taught in Minnesota, and he likes to golf, fish and hike. Hammersten is considering other books in this series. Hammersten dedicates this book to his grandson, Jackson, and the millions of other people who have autism.
----------
For additional information, please visit http://www.jackhammerauthor.com.
Accidental Destiny
Jack Hammer
Dog Ear Publishing
ISBN: 978-1-4575-2800-2 208 pages $13.95 US
Available at Ingram, Amazon.com, Barnes & Noble and fine bookstores everywhere.
About Dog Ear Publishing, LLC
Dog Ear Publishing offers completely customized self-publishing services for independent authors. We provide cost-effective, fast, and highly profitable services to publish and distribute independently published books. Our book publishing and distribution services reach worldwide. Dog Ear authors retain all rights and complete creative control throughout the entire self-publishing process. Self-publishing services are available globally at http://www.dogearpublishing.net and from our offices in Indianapolis.
Dog Ear Publishing – self-publishing that actually makes sense.