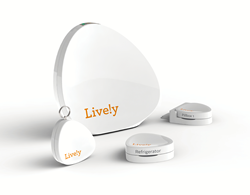 RadioShack is the perfect partner for us as we scale our business and seek to reach both the 'sandwiched' generation and their parents whose top priority is to age in place.
San Francisco, CA (PRWEB) July 31, 2014
Lively (mylively.com) announced today that its smart home product enabling older adults to remain independent is now available in 85 RadioShack stores in select markets across the country, marking the products' debut onto national retail shelves.
Lively's in-home, passive activity sensors that connect users to family members and caregivers will be featured in RadioShack's new interactive remodel locations, which are opening in markets across the country, including San Francisco, Washington, D.C. and New York.
"This new offering delivers on our mission of introducing new and innovative products," said Paul Rutenis, chief merchandising officer at RadioShack. "By teaming up with Lively, we're meeting the demands of one of the fastest-growing consumer markets, while also reinvigorating our brand by inviting consumers to discover RadioShack as a technology destination for all generations."
The U.S. Department of Health and Human Services reports that more than 11 million seniors live alone in the United States today. The senior population is growing as the baby boomer generation ages with about 10,000 people turning 65 years old each day. Older adults universally want to retain independence by staying in their homes, and new technology is enabling them to do so.
Lively uses passive sensors applied to everyday household objects to measure daily activity levels and automatically notify family members, or other designated caregivers, when any issues occur. Lively also provides older adult customers with a regular printed mailer, or LivelyGram, of photos submitted from social networks, like Facebook, that shares activity and events from their loved ones.
"Our entry into RadioShack marks the first time that Lively will appear on the shelves of a national retailer," says Iggy Fanlo, CEO and co-founder of Lively. "With its fresh look and renewed focus on technology discovery and collaboration, RadioShack is the perfect partner for us as we scale our business and seek to reach both the 'sandwiched' generation and their parents whose top priority is to age in place."
"RadioShack's newly remodeled stores provide an excellent environment to demonstrate Lively," adds Lively COO and Co-Founder David Glickman. "Customers can now have hands-on access to our products with RadioShack's interactive displays and connect with a sales associate to make smart decisions related to their technology needs."
RadioShack in-store associates received training on Lively and are ready to collaborate with you to help you make smart technology choices related to your health.
About Lively
Lively was founded by Iggy Fanlo, David Glickman, and Keith Dutton in the summer of 2012 and is headquartered in San Francisco. With collective backgrounds that include working at some of the world's most innovative consumer product companies, they've formed a vibrant team of talented individuals who share a passion for changing the way older adults stay connected across generations.
About RadioShack Corporation
RadioShack (NYSE: RSH) is a leading retailer with more than 27,000 knowledgeable associates focused on connecting consumers with personalized solutions and discovering what's possible through the latest in consumer electronics. The company's updated product assortment incorporates national brands, industry-leading private brand products, mobile devices and wireless carriers. Customers can shop leading brands in headphones and speakers, wearable technology, smart toys and DIY supplies, connected home, power accessories and home entertainment at http://www.radioshack.com/, or at one of the more than 5,000 locations in 26 countries. Find RadioShack on Facebook, Twitter, Instagram, and YouTube.