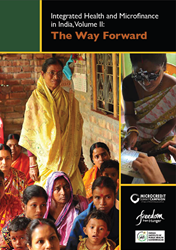 What is needed is greater synergy across programs such as agriculture, nutrition, health, and microfinance. -- M.S. Swaminathan
New Delhi, India (PRWEB) July 30, 2014
On July 29, 2014, Freedom from Hunger, the Microcredit Summit Campaign, and the Indian Institute of Public Health, Gandhinagar released a new report titled "Integrated Health and Microfinance in India, Volume II: The Way Forward." The report was released in advance of the South Asia Conference on Policies and Practices to Improve Nutrition Security in New Delhi, India.
M. S. Swaminathan, the "Indian Father of the Green Revolution" and chair of the Coalition for Food and Nutrition Security, joined the authors in a discussion of the report. "India, despite the many programs and efforts, is stagnating at the 131st position on the global hunger index and is experiencing a similar lack of upward progress on the Human Development Index...What is needed is greater synergy across programs such as agriculture, nutrition, health, and microfinance." He went on to say that the report demonstrates that a synergistic approach between health and microfinance can make a big difference and expressed his hope that this report will support greater take-up of this approach.
The report also received praise from A. R. Nanda, former Secretary in the Government of India for the Ministries of Health and Finance, saying that this second volume will "further inform and advocate for broader recognition by stakeholders and policy makers on the opportunity for improving access for poor families with simple but important health and nutrition interventions in a cost-effective manner using MFIs and SHGs."
The latest volume of the report highlights the policy measures in the Indian microfinance sector since 2011, documents best practices towards integrating health and microfinance, and proposes an agenda for moving forward: a) public health systems and institutions should take a proactive role to strengthen community participation leading to the sustainability of health programs, b) financial service providers should establish linkages with India's National Rural Health Management (NRHM) to improve access to health care, and c) championing a research agenda looking at the impact and large scale effectiveness to better understand the factors that affect the work of MFIs and SHGs on health knowledge and behavior with active support from Indian public health policy planners.
The report is part of an ongoing effort by the Health and Microfinance Alliance(led by the Microcredit Summit Campaign and Freedom from Hunger) to promote dialogue and encourage further exploration of and support for multi-sectorial approaches that integrate microfinance and health. Research indicates that this low-cost, sustainable strategy shows tremendous potential for improving both the health and financial status of India's poor and marginalized populations. The Alliance is currently supporting the efforts of 26 institutions in India to reach some 750,000 women with health-related programming.
Larry Reed, director of the Microcredit Summit Campaign, explained, "We hope to catalyze dialogue and debate among microfinance practitioners, health providers, and policymakers and encourage greater exploration of the potential to combine microfinance and health for a low-cost approach to improve health and productivity of the Indian poor."
The Campaign and Freedom from Hunger will co-host a day-long, interactive workshop at the 17th Microcredit Summit on September 6th in Merida, Mexico. This session, "Collaborating for Health: Linking and integrating health and financial services" will identify concrete opportunities for collaboration to deliver break-through health services across the globe. Registration is now open.
###
About the Microcredit Summit Campaign
The Microcredit Summit Campaign (the "Campaign"), a project of RESULTS Educational Fund, is the largest global network of institutions and individuals involved in microfinance and is committed to two important goals: 1) reaching 175 million of the world's poorest families with microfinance and 2) helping 100 million families lift themselves out of severe poverty. The Campaign convenes a broad array of actors involved with microfinance to promote best practices in the field, to stimulate the exchange of knowledge and to work towards alleviating world poverty through microfinance.
In partnership with Mexico's Ministry of Economy (Mexico) and its National Microenterprise Financing Program (PRONAFIM), the Campaign will host the 17th Microcredit Summit in Merida, Mexico, September 3-5, 2014.
http://www.microcreditsummit.org/
About Freedom from Hunger
Founded in 1946, Freedom from Hunger is a US-based international development organization that brings innovative and sustainable self-help solutions to the fight against chronic hunger and poverty. By partnering with local microfinance institutions (MFIs) and nongovernmental organizations (NGOs) throughout Asia, Africa and Latin America, Freedom from Hunger is reaching 5.7 million women, equipping them with resources they need to build futures of health, hope and dignity.