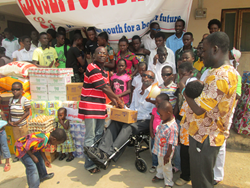 (PRWEB) July 30, 2014
All the children at Father's Home come from different backgrounds but scars of abandonment, rejection, abuse and exploitation tend to mar their respective psychosocial development. There appears to be sense of hopelessness and dejection. Quality youth development has underpinnings in a healthy adolescence and in this light any such support boosts confidence and in the foreseeable future, would assist in developing the youth.
It is in this light that the mere presence of Foundation members in that remote location – as contrasted to donation by checks with no persons in attendance – was refreshing to the children. The quantum of the donations was appreciated and it offered a glimmer that all is not lost.
There is no government support for this ministry. Neither does any corporate entity cater for the needs of these children. The children at Father's Home attend the local public school and payment of school fees poses a challenge.
The mission of the Edusei Foundation is to facilitate youth development in the United States, Ghana, and the Diaspora in a positive manner to improve their knowledge, behavior, and health. Moreover, we collaborate with other non-governmental organizations to empower women and children. The Eduesi Foundation often hosts youth workshops in order to further educate the world's youth.
The next Dr. Kwame Bawuah-Edusei and Edusei Foundation-sponsored youth workshop is scheduled to be held in New York on August 2nd, 2014.