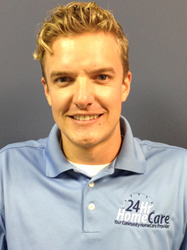 As President, my hope is to lead the San Diego Chapter forward in the changing environment of home care
San Diego, CA (PRWEB) September 22, 2014
24Hr HomeCare, a leading homecare provider in San Diego and the state of California, is pleased to announce that its Senior Director of Admissions, Zachary Morgan, has been elected as the 2014 Chair of the San Diego Chapter of The American Board of Home Care. Nominated by his esteemed professional peers, Morgan will now oversee the organizational and educational efforts of ABHC throughout San Diego.
The ABCH's mission is to promote uniform professional standards and labor practices throughout the Home Care industry. Morgan will guide the San Diego Chapter to not only uphold this mission, but also contribute to the overall progress of ABCH as well. "As Chair, my hope is to lead the San Diego Chapter forward in the changing environment of home care," says Morgan. He will direct the chapter's operational projects, strategic planning, and quarterly meetings.
The ABCH also educates government, client, and business partners on Home Care standards and practices. As Chair of The San Diego Chapter, Morgan will manage its educational ventures on topics such as new Caregiver legislation and the benefits of hiring certified Home Care agencies. These educational projects ensure that Home Care companies in San Diego— and across the country— continue to engage in legal and ethical business practices.
As Senior Director of Admissions for 24Hr HomeCare, a prominent Home Care company that was named No. 24 on this year's Forbes' "List of America's Most Promising Companies," Morgan has gained extensive experience in Home Care compliance and client services, both of which have prepared him for the operational, educational, and public roles he will assume as Chairt of the San Diego Chapter of ABCH. "I'm excited for the opportunity to guide the chapter with creative ideas and problem solving to better position it to help the elderly attain quality care that they can trust," said Morgan.
For a full list of San Diego-based Home Care providers certified by the American Board of Home Care, please visit:
http://americanboardofhomecare.org/index.php/abhc-chapters/abhc-sd-chapter?sid=2:sdabhcchapter