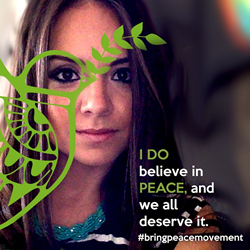 I believe that everyone has the opportunity to create peace everywhere and with everyone. In the end, we share the same world.
(PRWEB) July 31, 2014
Popular Latin DJ, Ms. Gema Del Toro, was born and raised in Latin America and has worked in media for over 15 years in Guadalajara, Mexico, Mexico City, and Los Angeles. She has worked as both a Producer and Director for television, and currently has her own radio show on Romance 99.5 in Mexico, with an international audience ranging from Mexico, Brazil, and the United States to Spain and France.
Deeply concerned about the increasing violence in the Middle East and its ramifications on children and families in the region, Ms. Del Toro elected to act as the Latin American spokesperson for The Way to Happiness Foundation International's Bring Peace Movement.
This campaign focuses on ending the conflict in the Middle East and bringing peace to the region through broad distribution and support of the common sense principles expressed in The Way to Happiness book. Included in these precepts are universal concepts such as "Respect the Religious Beliefs of Others," "Love and Help Children," and "Do Not Harm a Person of Good Will."
Calling on the Latin American artist community and the international community as a whole to endorse this message of peace, Ms. Del Toro will be working with a diverse range of Latin artists, business people, and citizens to bring peace to the Middle East region and end the conflict.
For more information, visit http://www.thewaytohappinessint.org and follow bringpeacemovement on Instagram and Facebook.