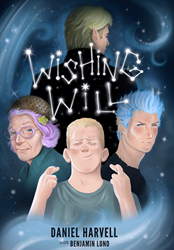 Austin, Texas (PRWEB) July 30, 2014
Join ordinary middle schooler Will Cricket as he stumbles upon a corporation of extraordinary wish-granters in WISHING WILL (AISN: B00M7EBIYY) by Daniel Harvell. WISHING WILL is a middle grade contemporary fantasy novel for kids of all ages. The novel has a mix of adventure, suspense and coming-of-age elements.
Although set in the "real" world, the titular character Will soon finds himself involved in the affairs of otherworldly beings with the power to grant wishes. While upon first glance, it may seem that these creatures might be witches or wizards, it's not witchcraft they employ—it's WISHcraft!
"Like millions of readers, I fell in love with the world of Harry Potter over a decade ago," said Harvell. "As a writer, I wanted to create and explore my own realm of magic too. But let's be honest—if an author writes about a wizarding world, it's going to be compared to Harry Potter, and that's not a comparison many can walk away from unscathed.
"So I thought about other types of magic and magical creatures—vampires and werewolves were off the table, as well, due to their proliferation in popular culture. Was there a realm of magical or mystical creatures out there that had yet to be written about? And that's when the idea of the wishing world hit me. Sure, we've seen fairy godmothers and genies grant wishes in Disney movies, but there hasn't yet been a pure exploration of what drives wish-granters or the world they live in. So I created one for myself and my readers."
Wishing Will is on sale exclusively at Amazon.com at $2.99 for an e-book or $12.99 for a paperback book. For e-readers without a Kindle, don't worry—just download the Kindle app onto your smart tablet or device and then download and read the book as normal.
About WISHING WILL:
Outcast middle schooler Will Cricket wants a new look, popular friends, cool parents and enough coordination to dribble a basketball - but he never actively pursues any of it. Instead, Will makes wishes.
When the magical wishing corporation known as the Sky Castle Network and Enterprises (a.k.a. the SCENE) agrees to grant him his ultimate wish to be someone different, he must work for his reward. Becoming a super-powered agent for the organization, Will teams up with a celestial wish agent with delusions of Hollywood stardom, a shape-changing half-Genie, a narcoleptic Dreamweaver and a stick-in-the-mud wish lawyer.
Together, they grant the wishes of Will's classmates and family members, helping the same people who pick on Will every day. As if these challenges weren't enough, there's a mystery surrounding his peculiar grandmother and a malevolent force bent on enslaving humanity. Will might have to fight not only for his wish but also for the entire world!
About the Author:
Daniel Harvell is author of the middle grade contemporary fantasy novel WISHING WILL. His first novel, THE SURVIVORS, was a #1 download for "superhero" fiction at Amazon.com in July 2013 and maintains a five-star rating. For more information about the book, upcoming novels, tips on writing fantasy and more, visit his website at http://DanielHarvell.com.