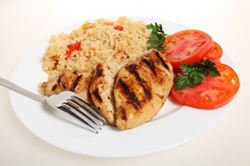 'By reducing the size of our plate we naturally consume less food and reduce our serving size.' -Dr. Marta Katalenas
Austin, TX (PRWEB) August 01, 2014
As part of a 12-month resolution challenge designed to help families eat healthier and lose weight, Dr. Katalenas, an Austin TX pediatrician, recommends downsizing meals in August, simply by trading a regular dinner plate for a salad plate to easily reduce the entire family's calorie intake.
According to the Centers for Disease Control and Prevention people tend to unintentionally consume more calories when they are served more food. Portions can easily be double the amount that a person should actually eat, resulting in more calorie consumption.
In a recent article, Dr. Katalenas provides parents tips to help easily reduce serving sizes and improve nutrition for the entire family. More of Dr. K's nutritional advice that she has been giving her patients for years are included in her book, "The Step Up Diet: Quality, Quantity and Timing", which provides an easy three-step plan to help transform the whole family's eating habits.
From experiences with patients in her own pediatric clinic in Austin, TX, Dr. Katalenas is a witness to the health effects of children eating too much unhealthy food. "The problem is also compounded by the many choices we're given", says Dr. Katalenas. "From my point of view, it is a mistake to give children food choices. If children are hungry, put something fresh and/or homemade in front of them."
"Resist the urge to serve seconds to your family and firmly stand behind your small portion meal plan," said Dr. Katalenas.
Families can adopt monthly resolutions created by Dr. Katalenas on her website at http://www.DrKatalenas.com that will help them make easy changes to become healthier and stay on track throughout the year.
About Dr. Katalenas
Dr. Marta Katalenas is a board certified pediatrician and owner of the Pediatric Center of Round Rock. She is a public speaker and author of the book "The Step Up Diet: From Scratch… The Quality, Quantity, and Timing Solution to Childhood Obesity," a guide to healthy cooking and eating for busy families.