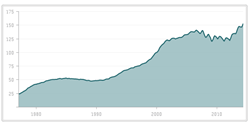 In the last two months, 9 out of the 20 cities have increased in percentage by the double-digits.
Chicago, IL (PRWEB) July 29, 2014
Lenders like Peoples Home Equity were pleased to see month-over-month increases across all of S&P/Case-Shiller home price indices. S&P/Case-Shiller announced its updated home price indices. The results were impressive with the 10-City Composite Index, 20-City Composite Index, and National Home Price Index all rising in May by 1.10%, 1.14%, and 0.17%.
On a year-over-year basis the 10-City Composite Index rose 9.4% while the 20-City Composite Index rose 9.3%, the National Index which is updated quarterly has risen 10.3%.
Looking at the 20 individuals cities that are tracked, the best monthly percentage gainers were Tampa at 1.8% and San Francisco at 1.6% Impressive gains were also see in Chicago at 1.5% and Charlotte at 1.4%. Peoples Home Equity found it especially positive that not a single city saw a decline in index value month over month.
According to David M. Blitzer, Chairman of the Index Committee, home prices have increased rather slowly in comparison to previous months from February of 2013. The good news is that even though there are still a few slowdowns with construction and new home sales, overall home sales and prices are improving day by day. In May, home prices were the same as they were in the summer of 2004. Since March, 2012, both 10 and 20 City Composite indices have increased by 26.5% and 27.3%. In the last two months, 9 out of 20 cities have increased in percentage by the double-digits. Cities with largest annual increase in percentage were Las Vegas with 16.9%, San Francisco with 15.4% and Miami at 13.2%.
Peoples Home Equity thinks readers may be especially interested in the home price index for Denver as it has already broken out to new all time highs. The Denver home price index is now 8.78% above its prior July 2006 peak. Either some Americans are shifting their demand to a state that is geared to the great outdoors, or the is a tight supply of home listing in Colorado. Regardless, Denver is showing a strong housing market is it's outperforming every other city in America in terms of surpassing its previous pre-crisis high.
If in need of a mortgage, contact a Peoples Home Equity loan officer today at: 262-563-4026.