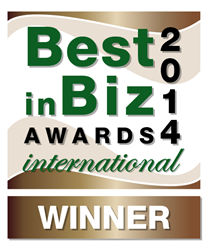 Boost Software was chosen from businesses and other organizations in over 30 countries to receive the award.
Boston, MA (PRWEB) July 31, 2014
Boost® Software is proud to announce that it has once again been recognized by the Best in Biz Awards—this time receiving the Best in Biz Awards 2014 International Bronze Award for Most Consumer Friendly Company of the Year.
Boost Software is a Microsoft Certified Gold Development partner, whose flagship products include PC HealthBoost®, PC SpeedBoost™, and DriverBoost® software.
Boost Software was chosen from businesses and other organizations in over 30 countries to receive the award. The Best in Biz Award organization cites itself as the only independent business awards program that holds industry analysts and members of the press as judges.
Co-founders Peter Dunbar and Amit Mehta entered the PC optimization software niche in part because of customer service issues they encountered. "Even the companies with good software didn't provide adequate support," says Dunbar. "We knew we could stand out just by providing adequate support. But we wanted more than that—we wanted to be exceptional."
Towards that end, Boost Software provided something even many Fortune 500 companies no longer provide—native English-speaking phone support, typically based in the caller's country of origin. Boost provides support for its product with call centers in Florida, which are available to US, UK, Canadian, and Australian customers. For customers that don't enjoy the phone, email and ticket support systems are also available.
According to Mehta, this niche market's lack of good service provided both the impetus and strategy for the two partners. "Almost no one was giving adequate customer service in this niche—most merchants weren't providing anything at all, aside from occasionally-checked emails from the owner!" says Mehta. "We realized we could stand out and also help others just by doing customer service the way it should be done. And it should always be exceptional!"
This isn't Boost's first time to receive a Best in Biz International award. The company also won the silver award for Best New Business in 2013.
With two consecutive years of awards from the same company, what do Boost's owners and employees believe the company will win next year?
"I don't know," says Erin Walsh, Associate Director of Marketing at Boost Software. "But as good as the last couple of years have been, I think the years to come will be even better."
The Boston, MA-based company has offices in Florida, Poland, and Bentonville, AR. In addition to its award-winning PC optimization programs, it plans to release antivirus and computer security programs later this year. More information is available at http://BoostSoftware.com