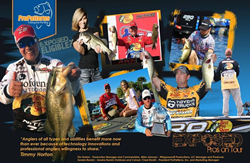 This information is invaluable to aspiring pros and others.
Yankton, South Dakota (PRWEB) July 30, 2014
ProPatterns, Inc. remains the leader in the angling world of information sharing, and with years of data collection through journals, fishing videos, and professional insight, the company will be showcasing a new environment conducive to modern socializing for angling enthusiasts.
ProPattern's President Chad Ekroth explains, "We have been collecting data from anglers for years, including professionals on the BASS Elite trail. This information is invaluable to aspiring pros and others wanting to increase their catching experience." He continues, "Our members dictate a lot of the direction our company takes. They are the captains of the ship and tell us what they want to see. We provide the platform and resources and they provide the inquiries that drive our company."
This year the video series Exposed, available exclusively at ProPatterns.com, also expands into new territory with the Exposed Eligible? film contest. The contest offers angling enthusiasts and fans the chance to gain the sort of exposure professionals work years to achieve. The Exposed Eligible? film contest is a no-entry-fee video competition that challenges anglers to submit short fishing videos meant to educate and entertain.
As film technology continues to improve, angling enthusiasts have discovered that bringing the camera onto the water has never been easier. The Exposed Eligible? film contest capitalizes on this trend by offering fans a user-friendly experience. A decade ago, filmmakers would have needed expensive camera equipment and software to produce a quality video, as well as access to a distribution network to gain any sort of exposure. Today, a personal video camera, desktop editing software, and internet access are all that are necessary to gain that exposure.
Ekroth adds that, "What separates Exposed Eligible? from video-sharing platforms like Youtube is that some of the top names in the sport have been selected to review these videos and vote for their favorites. This is exposure for anglers that exists nowhere else."
The first round of voting for Exposed Eligible? to determine the top ten film entries involves competitors gathering fan votes for their videos on the Exposed Eligible? Facebook page. Once the top ten finalists are chosen by popular vote, videos will be judged by a panel of Exposed pros.
Contestants vie for a chance to win a grand prize day fishing-and-filming package with pro angler Tim Horton of Timmy Horton Outdoors. The video contest, underway now, continues through August, and also boasts hundreds of dollars in prizes for the top ten finalists.
More About ProPatterns, Inc. and Exposed:
ProPatterns, Inc. is a leader of angling education by sharing professional fishing tips, industry information and member services online. In addition, ProPatterns offers prize filled competitions, sharing of information among peers, and connections to industry professionals and media through means available nowhere else.
Information is gathered from various sources and disseminated with members in a variety of ways. The Exposed video series, for example, gains all of its integrity from an alignment with the biggest names in the bass fishing industry including professionals who fish with BASS, FLW, and PAA. Cooperation from the anglers and their willingness to share is the catalyst for the growth of this series.
For #exposedeligible contest information and rules, the Exposed video series, and all other ProPatterns offerings, and to become an ELITE or Social ProPatterns member, please visit http://www.ProPatterns.com.