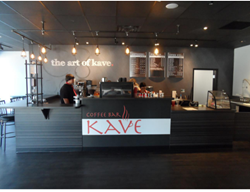 'We're excited to welcome Kave Cafe Bar to the Crimson Cup community. Over the past year alone, we have helped 15 new business owners realize their dream of running an independent coffee business.' - Greg Ubert, Crimson Cup Coffee & Tea
Columbus, Ohio (PRWEB) July 30, 2014
Ohio coffee roaster Crimson Cup Coffee & Tea is proud to welcome another new business to its growing community of independent coffee houses, cafés and bakeries. The Kave Coffee Bar and Nine Muses Art Gallery opened July 24 at 584 W. Tuscarawas St. in Barberton, Ohio.
The coffee bar and art gallery anchors the new arts and entertainment district in downtown Barberton under development by Neighborhood Development Services, a nonprofit community development corporation.
Using hand-roasted coffee, syrups and other ingredients from Crimson Cup, Kave Coffee Bar serves delicious hot and cold espresso, cappuccino and mocha drinks, drip coffee and hot and iced teas. The coffee bar offers free Wi-Fi, space for musical acts and a private conference room.
"We're excited to welcome Kave Coffee Bar to the Crimson Cup community," said Founder and President Greg Ubert. "Our experience shows that, by providing essential gathering places, independent coffee shops help breathe new life into communities like Barberton."
Kave Coffee Bar was designed as a hub for area visitors, including people coming to peruse the latest show in the gallery, or moviegoers stopping in for a sip before or after a show at the newly reopened Lake Movie theater next door.
Nine Muses Art Gallery will feature a rotating collection of artists, with exhibitions changing every two months. The coffee bar will exhibit works by Barberton artists.
Neighborhood Development Services created Kave Coffee Bar through Crimson Cup's Seven Steps to Success coffee shop franchise alternative program, based on Ubert's book, "Seven Steps to Success in the Specialty Coffee Industry." This commonsense guide covers everything needed to start and run an independent coffee shop.
"Our Seven Steps program offers all the support of a franchise – and more – but without franchise fees, royalties or business restrictions," Ubert said. "Our consulting services, which include business plan development, site evaluation, on-site training, marketing materials, menu ideas and much more, are all designed to help reduce costs, increase profits and eliminate potential headaches."
Through its coffee franchise alternative, Crimson Cup has helped hundreds of independent coffee shops develop thriving businesses. "Over the past year alone, we have helped 15 new business owners realize their dream of running an independent coffee business," Ubert said.
For more information about Kave Coffee Bar and Nine Muses Art Gallery, visit ninemusesart.com or the Kave Coffee Bar Facebook page.
About Crimson Cup Coffee & Tea
Since 1991, Crimson Cup Coffee & Tea has hand-roasted specialty coffee in Columbus, Ohio and taught independent business owners how to be successful through its coffee shop franchise alternative program. Sustainably sourced Crimson Cup coffee is available through a network of more than 350 independent coffee houses, grocers, college and universities, restaurants and food service operations across 28 states, as well as the company's own Crimson Cup Coffee House in the Columbus suburb of Clintonville. For more information, visit crimsoncup.com.