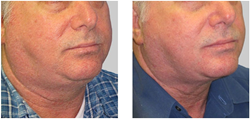 Before and after pictures of non-surgical procedures like Thermage and Exilis, show similar results to surgical procedures
(PRWEB) July 31, 2014
Patients are choosing less invasive and more natural cosmetic treatments at Precision Aesthetics New York. Precision Aesthetics is New York's leading Thermage, Carboxytherapy and Exilis provider for over 7 years. Over the past 12 years many of the new treatments that have evolved are more natural, and minimally invasive. The reason for growth in this sector is that although less invasive, many of these new procedures compare favorably to surgery. Thermage and Exilis compare favorably to a mini face-lift or liposuction for the body. "Before and after pictures of non-surgical procedures like Thermage and Exilis, show similar results to surgical procedures," commented John Aslanian Practice manager at Precision Aesthetics. The favorable comparisons are even more apparent in before and afters of the popular mini face-lift compared to Thermage and Exilis. "Terrific results have been demonstrated for the face and every single part of the body," continued John.
The worst outcome from Thermage or Exilis is that results may fall short of expectations. However, even that would be avoided given a proper consultation. Surgically, there is the possibility of scarring, lumpiness and loose skin after liposuction. Exilis is actually being used more and more to help with lumpiness after surgical liposuction. Carboxytherapy is another example of using the bodies natural processes for a cosmetic result. Every single cell in the body takes in oxygen and excretes carbon dioxide. That principle is utilized to increase circulation with minute injections of carbon dioxide to improve cellulite, stretch marks and dark under eye circles.
There are many additional natural and minimally invasive solutions that are proliferating. One example is PRP (protein rich plasma) or the so-called Dracula facelift. It is being used instead of Botox for smaller wrinkles. The procedure uses growth factors from blood versus the powerful neurotoxin, botox. The growth factors literally repair wrinkles vs. paralyzing the muscle with Botox. PRP is also used for overall facial rejuvenation. Cryotherapy facials improve the skin by increasing circulation to the face with alternating heat and cold. Another fascinating discovery was acoustic wave therapy, which was originally used for physical therapy to speed recovery of muscle injury. The acoustic waves deep stimulation causes the muscle to repair more quickly. The side effect was improved cellulite. This was ironically discovered by female athletes after doing physical therapy. Dr Zdinak and Precision Aesthetics were contacted by the manufacturer to investigate the loss of cellulite utilizing acoustic wave. One of the newest minimally invasive treatments utilize cold lasers, like Illumiwave, for hair growth, acne, and fat loss. Cold lasers are much less invasive than hot lasers. As the name implies, they are literally cold and do not produce any heat but still stimulate our cells with various positive outcomes.
The fact that patients are choosing minimally invasive more natural safer treatments is a great trend that will only continue to grow. Dr Lisa Zdinak, Chief Surgeon and Medical Director of Precision Aesthetics, has spent years bringing no less than 12 new technologies and products from various countries to the United States for her patients. She has put aside surgery to spend more time to research and bring the best natural and minimally invasive solutions for her patients. She is on the forefront of technologies like personal creams, utilizing patient's own growth factors and other cutting-edge technologies we will be hearing more about in the future.
Precision Aesthetics is located at 10 West 74th St steps of Central Park West in a discreet private boutique setting for those seeking the ultimate in privacy. For more information, go to http://www.PrecisionAestheticsMD.com.