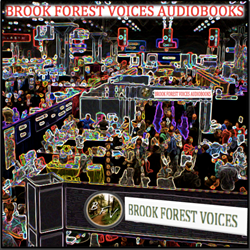 A hero's journey can take many paths.
Evergreen, Colorado (PRWEB) July 31, 2014
Brook Forest Voices (BFV), audiobook producer and publisher, will be exhibiting the Mountains & Plains Independent Booksellers Association (MPIBA) Fall Discovery Show Oct. 9th-11th, 2014 in Denver, CO. Amazingly, accompanying BFV will be best-selling authors Dr. James W. Jackson and Terrence M. Burke.
Dr. James Jackson will be in attendance on October 9th & 10th and available for book signings, print, audiobooks, as well as to answer any questions about, "The Happiest Man in the World", "Love & Common Sense" and "Simplicity & Sophistication." He will also be available to discuss the founding of his organization, his travels around the world on behalf of, the non-profit humanitarian relief organization Project C.U.R.E. featured by Brian Williams on NBC Nightly news.
Terrence Burke will also be at the BFV booth October 9 & 10. As Author of "Secrets of the Secret War" about the little known CIA military activity during the Vietnamese War and "Stalking the Caravan," the book detailing Terry's adventures as a Federal Narcotics Agent in Afghanistan. Awarded the CIA Intelligence Star for Valor, this is THE opportunity for independent store owners to meet Terry and learn more about his operations during the 1970's.
Both author's audiobooks were featured as upcoming releases in "Publishers Weekly." Those visiting the BFV booth will have the rare opportunity to receive a free digital download of one of their books. Better yet, free digital downloads of books by all BFV authors including Yvonne Mason, Elizabeth Galligan, Dawn Obrecht and Jill Storti will also be available.
About Brook Forest Voices: a complete audio production studio located just west of Denver in Evergreen, CO, specializing in audiobook narration, production and publishing. BFV is designed to help large and small publishers, as well as authors, with all their audio needs. Publishers and authors wanting to learn more can visit http://www.brookforestvoices.com or contact Jaime Andrade, BFV Business Manager at 303-670-4145.