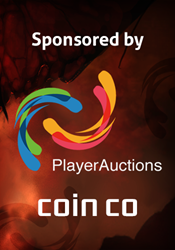 Our users tend to be tech-savvy and early adopters—therefore, accepting bitcoin falls in line with our forward-looking company goals.
New York, NY (PRWEB) July 30, 2014
PlayerAuctions, the largest player-to-player secondary market in the US/EU dedicated for video game-based assets, has rolled out its latest payment method to serve the requests of the gaming industry and seize present and future opportunities presented by accepting bitcoin. Integration with Coin.co, a payment processing company that allows merchants to easily and securely integrate bitcoin payments alongside more traditional payment methods, has been successfully tested and is now in full deployment for its users on the global trading platform.
"As one of the first virtual goods marketplaces, we at PlayerAuctions have over a decade worth of knowledge of our demographics telling us that bitcoin is a good fit. Our users tend to be tech-savvy and early adopters—therefore, accepting bitcoin falls in line with our forward-looking company goals," says Jacob Aldaco, Head of Western Marketplaces at PlayerAuctions. "As a secondary market trade site, we want to provide participants with these types of payment options, while keeping company risk low, customer flexibility high, and the highest standards in security for all parties."
With an eco-system containing billions of dollars worth of bitcoin and a relatively limited number of places to spend it, early adopters like PlayerAuctions are poised to reap a windfall from this early-mover advantage from both a near-term profitability and longer-term market share standpoint.
"Allowing the millions of worldwide customers in the gaming sector to buy digital assets with digital currency makes a lot of sense," says Matthew Mellon, Board Member and Overall Bitcoin Ambassador for Coin.co who helped to facilitate this partnership. "This integration is truly the perfect marriage—and also helps to bring more wide-spread usage of bitcoin as a whole."
Integration and testing was done with Coin.co's Development Team to ensure ease-of-use and superior security to both PlayerAuctions and its customers.
Jacob Adds, "The synergy is obvious; Bitcoin adds value on so many levels, for us as a merchant, as well as for our users, and we're excited to be supporting it."
About PlayerAuctions:
PlayerAuctions is a leading dedicated gaming marketplace, serving over 180 countries worldwide to provide a safe trade option for video game-based assets. Run as a customer-to-customer marketplace, gaming-enthusiasts can engage in the buying and selling of video games, digital assets, and other gaming peripheral products. Established in 1999, PlayerAuctions is part of B&M Holdings, a game publisher, mobile game distribution company, and marketplace with over $1bn USD in transactions annually. To read more, visit http://www.playerauctions.com.
About Coin.co:
Coin.co is a New York-based payment processor that focuses on providing bitcoin-processing solutions to forward thinking companies. Typically working with large corporations and institutions, Coin.co's technology enables businesses to accept bitcoin from their customers, yet receive U.S. dollars into their bank accounts. With extensive history in the Bitcoin space, Coin.co's team provides expertise, regulatory guidance, and heightened diligence on its clients' bitcoin transactions. To read more, visit http://www.coin.co.
Media Contacts:
Sarah Tyre
Communications Director
Coin.co
Sarah(dot)tyre(at)coin(dot)co
(+1) 239 849 4522
Jacob P. Aldaco
Head of Western Marketplaces
PlayerAuctions
Jacob(at)bmglobal(dot)com
China Office: (+86) 021 60708446
US Mobile: (949) 613-5081