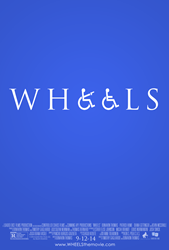 Los Angeles, CA (PRWEB) July 30, 2014
In just over six months, co-directors Donavon Thomas and Timothy Gagliardo made WHEELS for the cost of a luxury car. The ambitious project took 62 days to shoot and enlisted the help of over 250 people. "We wanted to make a film that looked like we spent millions," said Gagliardo. "So we spent the only asset we had—time." The film stars Donavon Thomas, Patrick Hume, and Diana Gettinger. It has a running time of 114 minutes and received an R rating from the MPAA this month.
This dark-humored drama follows Mickey (played by Thomas), a suicidal paraplegic who can't seem to kill himself. Mickey offers a hilarious, wild-eyed homeless junkie named Drake (played by Hume) $500 to shoot him in the head. In a twist of fate, an unlikely friendship develops and the two end up hustling through the streets of Los Angeles to find purpose and belonging. Although they find temporary relief from their woes in heroin, cocaine, alcohol, and prostitutes, their drug-induced adventures ultimately take them back to the source of their troubles.
WHEELS explores subjects such as mental abuse, trauma, family dysfunction, drug abuse, domestic violence, and the seduction of death in the face of adversity. Despite the dramatic depth of the film, it manages to flawlessly integrate laugh-out-loud humor for a thoroughly entertaining and thought-provoking cinematic experience. The film's outcome will surprise many and disturb many more come September.
Thomas and Gagliardo sold everything they had to make the film. The directors landscaped the front of a larger studio in exchange for shooting time; Gagliardo gave up his apartment to get his deposit back; Thomas even endured medical testing for extra money. This was a huge risk, as he simultaneously lost 53 pounds to play a progressively shrinking Mickey—Thomas lost the weight on a strict diet of tuna and apples.
Patrick Hume also rose to the risky occasion, cracking and cutting his own fingernails with pliers without being asked to. "Because of the heroin scenes, I knew there would be a close up of Drake's hands," he said. "And I just thought there is no way this guy can have nice fingernails." Hume was so convincing, he was even stopped by LAPD narcotics officers during filming. Hume and Thomas also ventured out in character when no cameras were rolling to prepare for their roles and learn how to navigate their wheelchairs. This included time on Skid Row in Downtown LA.
The film is a guerrilla project and was nearly shut down during filming. It has also garnered a significant cult following. After premiering at the Newport Beach Film Festival this summer, the film's full social media campaign launched online—complete with Drake cartoons and memes. Drake has inspired some fans to paint the movie logo on walls and sidewalks. "We are humbled by the response," said Thomas. "I don't even think these fans have seen the movie yet!" Loaded Dice Films has released statements on social media asking fans not to deface public property, but this is likely only the beginning of the frenzy.
WHEELS rolls into theaters September 12th, 2014.