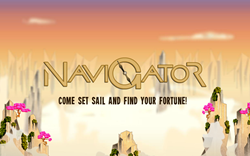 Denver, CO (PRWEB) August 01, 2014
Offbeat Entertainment has been incorporating music into popular video games for many years and is now developing games to promote artists and their music. Best described as a music video meets a game, their latest release Chemistry Club: Navigator allows fans of the band to experience music in a whole new way.
Chemistry Club: Navigator takes players on a journey through a whimsical world inspired by the song Navigator and challenges players to score a perfect run. The game is free to play and contains an exclusive "making of" video, alternate versions of the song, and many new airships for the game that can be unlocked with a donation to the band.
"People rarely pay for music these days with services like Spotify giving them all the music they could ever want for free" states Justin Mette, CEO of Offbeat. "A game designed specifically around a song gives the artist a new revenue stream from their music and a unique way to engage fans."
"Chemistry Club loves working on creative projects," says lead singer Jeff Wiencrot. "Offbeat was a natural fit. The game is a truly exciting way to share our music."
Chemistry Club: Navigator is now available on the following platforms:
iOS: http://bit.ly/navigatorappstore
Android: http://bit.ly/navigatorgoogleplay
Facebook: http://bit.ly/navigatorfacebook
About Offbeat Entertainment
For years, Offbeat has been instrumental in helping artists get their music into popular video games like Rock Band (TM), BandFuse: Rock Legends (TM), and Rockstar Rising (TM). Founded by game developers, it was a natural evolution for Offbeat to start building custom game experiences around an artist and their music, helping to maximize exposure and generate new revenue streams.
About Chemistry Club
Chemistry Club is an electropop band born from a love of synths, robots, circuits, the cosmos, 80s video games, and great pop music. They are currently working on a full length sci-fi concept album for release in early 2015. Chemistry Club has appeared twice at Denver Comic Con and recently played alongside Panic at the Disco, Twenty One Pilots, and American Authors.