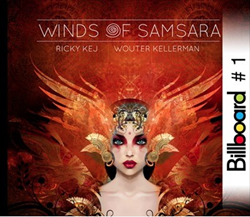 (Fiona Joy)....backed by Kellerman's flute, Kej's keyboards and bass, santoor and vocals, the song elegantly enchants as it touches the heart."
Los Angeles, CA (PRWEB) July 31, 2014
Musical cross collaborations are hot among independent artists in the international music scene today. This week, composer and pianist Fiona Joy is previewing her next album, Signature, with a track on the collaborative album Winds of Samara, which just débuted at #1 on Billboard's New Age chart.
Fiona Joy, an Australian, provided the piano track for South African flautist Wouter Kellerman and Indian producer/artist Ricky Kej to give their own twist for their album that released July 15, 2014. However, that is only the beginning for this beautiful song, which Fiona Joy is committed to sharing with artists from a variety of genres who will reinterpret the piece in their own style.
"This is such a simple and beautiful melody," she says, "and that's really the point of its name… to remind us that music is meant to be shared, and that life really is simple when lived with grace."
Critical reviewers of Winds of Samara seem to agree, highlighting the song in their reviews. One writes "…'Grace' is another striking piece, as Australian pianist Fiona Joy joins Kej and Kellerman in crafting a dulcet arrangement around Jyoti Venkatraman's warm and pliable vocals brushing across the melodic passages," and another imparts "'Grace' brings in one of my favorite artists, Fiona Joy, with her original composition and playing her new Stuart and Sons grand piano. Backed by Kellerman's flute, Kej's keyboards and bass, santoor and vocals, the song elegantly enchants as it touches the heart."
Fiona Joy says she composed the appropriately-named "Grace" after a confluence of events. She was feeling down after hearing some disappointing career news when she received a very personal fan mail from a woman sharing her story of personal recovery after delivering a stillborn child, whom she had named Grace. She wrote to tell Fiona that her music had helped her to cope with the pain of loss, and to share that now, 10 years later, she listens to Fiona's music while holding her new baby girl, Sophie Grace. "Your music stands the test of time," she wrote, which made all the difference in the pianist's perspective that day, as she returned to the keys to begin composing for Signature, an album slated for 2015.
Fiona Joy is appreciated by audiophiles for offering her music in multiple formats including Super Audio CD (SACD), vinyl and Direct Stream Digital (DSD). Recently, she recorded a poignant solo piano version of "Grace" in DSD format for release by Blue Coast Records, which can now be found in all audiophile formats at: http://bluecoastrecords.com/store/fiona-joy/signature.
In keeping with her vision for sharing the song, Fiona Joy announced that Sherry Finzer and Darin Mahoney (of the renowned Finzer/Mahoney Duo) will record "Grace" for their next album. Also, this Fall, indie Pop/Rock artist Trysette and Fiona will perform a heartbreaking duet of the song during their U.S. Tour as Two Grand I'm Yours; tour dates include California, Colorado, Arizona and New Mexico, and are available at: http://www.twograndimyours.com/tour-dates.html.
Later this year, Fiona Joy will record a vocal version of "Grace" at Imaginary Road studio as part of her forthcoming Contemporary Instrumental album, Signature, to be released on her own label, Little Hartley Music. Signature, her seventh original album, explores dreams, fairytales and magical lifescapes, poetically told with an emphasis on story themes we all know and love. From an invisible train, to a Princess in a tower with an angry dragon, Signature covers tales of joy and wonder, tinged with sadness and mystery.
In reflection, Fiona Joy notes, "This poetically simple song 'Grace' helped me to appreciate the longevity of the music we create. Making a difference in someone's life is what really matters...our music is often more powerful than we realize."
The Winds of Samsara version of "Grace" is now available for download as a single or as part of the complete Winds of Samsara album at iTunes or Amazon (http://tinyurl.com/kz7hyro).
For more information, review copies, or interview requests, please contact Beth Ann Hilton, The B Company, at 310-560-8390 or bethhilton(at)thebcompany(dot)com.
Visit Fiona Joy's official website at http://www.fionajoy.com/.