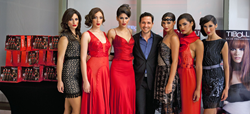 "The purpose of this line is to exude confidence and sex appeal through hair" Van Tibolli, Founder and CEO explained.
San Juan, Puerto Rico (PRWEB) July 02, 2014
Van Tibolli, Corp is proud to announce the launch of the latest brand in the portfolio of products and services. The runway showcased the sexiest hairstyles from up styling to our signature keratin treatments, Trioxxy & Trioxxy-X on exquisite Puerto Rican Miss Universe Contestants inspired by our International Creative Director, Misha Belfer. The models were dressed to impress from head to toe in Sonia Rivera red and black vintage collection of sultry sophisticated evening attire. The guests took photos with Van Tibolli and received Tibolli Gift Bags including our newest product Bubble Free Shampoo.
Tibolli products combine science and style. The science behind all Tibolli products is Trioxxy, a mixture of keratin proteins formulated to smooth and enhance hair texture. It protects against future damage and environmental effects by creating a shield over each strand. The Tibolli line features both professional and retail products that deliver results for a multitude of beauty needs. The Tibolli hair care collection of products perfect for creating a silky, sleek or textured look for any hair type. Tibolli inspires confidence to women through top of the line products creates sexy hair from root to tip completing charming hair days and sleek perfection through the night. Flawless frizz free hair takes on a provocative point of view.
Van Tibolli continues to strive for excellence within the hair care industry by consistently creating products that serve the need of hair stylists and consumers who are looking to maintain, strong, healthy and soft sexy shine, HOT in every hemisphere.