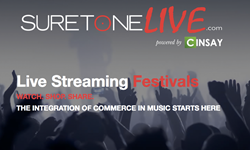 The SuretoneLive broadcast, was a smashing hit with fans online, this is the perfect way to add value to any live concert or festival. We will be working with SureToneLive's team for many more upcoming concerts this year and next.
Austin, TX (PRWEB) August 11, 2014
SuretoneLive.com has announced another round of highly successful results from the recently launched entertainment-streaming platform. The live HD broadcast of the 'Under the Sun' summer concert on July 29th produced high metrics on views, shares, and eCommerce conversions. The exclusive live video featured Grammy-winning and Billboard topping bands, Sugar Ray, Blues Traveler, Uncle Kracker and Smash Mouth with backstage interviews and 'shout outs' from fans both at the event and online.
The global broadcast was viewed in 61 countries and 39 different languages. Leading up to the event and during the entire 3-hour show, fans tweeted, shared, reposted video on their own social media pages and shopped branded apparel and purchased limited autographed items from the concert tour – all inside the video. Viewers shared the video with others using text, email and 61% through social media. Featured merchandise sold consistently throughout the webcast with a conversion rate for 'views to transactions' of 2.5% and an average sale of $37.60 per transaction. Measuring 'take actions'* inside the video, ratios averaged 9.7%. The event once again proved the unique power of Cinsay's multi-patented video commerce technology.
"This was an amazing event," said Chip Quigley, Chairman of Kingdom Entertainment, producer for the Under the Sun tour. "The SuretoneLive broadcast, was a smashing hit with fans online, this is the perfect way to add value to any live concert or festival. We will be working with SureToneLive's team for many more upcoming concerts this year and next," he added.
"The webcast had some early technical issues as many of these live events initially do, but the results were just as powerful as our last live show with the Mick Fleetwood Blues Band," said Jordan Schur, previously president of Geffen Records and founder of Suretone Entertainment. "This continues to build on the business model of SuretoneLive.com and prove out the formula that we're creating the next evolution of online music entertainment, seamlessly bundled with social sharing and eCommerce," shared Carl Stubner, CEO of Suretone Entertainment.
Viewers also accessed the show from various platforms with 43.9% coming from desktops, 45.13% from smartphones and 10.9% from tablets. The merchandise was also streaming out the door as each viewer represented over $.70 of revenue in merchandise and apparel. On Cinsay's Facebook fan page alone, one post promoting the event had reached over 200,000 people with the bulk of those views comprised of 18 to 24 year olds.
"We are very pleased to see the successful results from this event. This marks Cinsay's third big live show and we are seeing a pattern unfold for how our multi-patented technology will be an integral part of live music in any venue - anywhere in the world," said Christian Briggs, founder and CEO of Cinsay. "As music fans flock to sites like Pandora, Spotify, and Apple's Beats, there is still an increasing demand from artists on how to monetize their music and from fans as they demand more immersive and unique online experiences," Briggs added.
During the live concert, fans tweeted in questions to the bands and shared the live video via links, and on their own Facebook feeds and tumblr pages. The shared video also carried along the merchandise and links enabling others to have the ability to instantly purchase select branded merchandise – all inside the video and without having to 'link out' or leave the virtual concert experience.
"What a blast! This is a great way to reach fans who didn't have the concert series come through their city or if they just wanted to experience the show all over again," said Mark McGrath, lead singer for Sugar Ray.
"There's simply not a better way to pack more audience into a sold-out venue than doing a live webcast like this," added Steve Harwell of Smash Mouth. And the tweets supported that idea as fans tweeted posts like, "I could only afford one show on the #UTS2014 tour but that's okay because it's streaming live!!!"
"What an excellent way for artists to entertain fans and sell merchandise! SuretoneLive is awesome," said John Popper of Blues Traveler. "This definitely takes streaming quality entertainment for fans and selling merchandise and memorabilia to the next level," shared Uncle Kracker. "We're excited to be part of this new music revolution with SuretoneLive!"
Earlier this year, Cinsay and Suretone Entertainment announced the formation of SuretoneLive.com and the response from the partnership has been overwhelming and continues to be extremely positive from artists, fans and advertisers within the music industry.
SuretoneLive.com, powered by Cinsay, with merchandise provided by Cinsay On Demand, will be announcing additional upcoming live events as more artists join the premiere broadcast network. Music fans will be able to choose from various live performances hosted in famous venues across North America as well as share the music with friends and family via Facebook, twitter, Tumblr and on other social media sites. Each event will also showcase exclusive merchandise from those participating artists including some one of a kind collectibles, which will be available only on SuretoneLive.com and ShopSuretoneLive.com.

'Take Action' is a key metric of the multipatented Cinsay Video Smart Store™ platform that measures the actions taken inside the player when the viewer interacts with the video.
About Cinsay, Inc.
Austin-based Cinsay has created a next-generation e-commerce, viewer interactive, video-based platform for any size business. Cinsay's technology enables anyone to sell products, display printable coupons, capture donations, and generate leads all inside its patented Smart Store™ technology. Along with being the premiere video commerce provider for small and medium businesses, Cinsay is adding new exclusive content channels for sports, music and movies.
Forbes named Cinsay one of "America's Most Promising Companies" while eTail Conferences named Cinsay a "Rising Star" in innovation for 2012 and Red Herring awarded the company with the Top 100 Companies in North America for 2014. Cinsay's eCommerce video-based platform can be used for any individual or business. For more information, please visit http://www.cinsay.com or call 855-725-2462.
One or more of the following patents may protect Cinsay's software, systems, and/or services. See http://www.cinsay.com/patents. U.S. Patent Nos. 8,312,486, 8,533,753 and 8,549,555 for interactive Internet-based video applications.
AndrettiTV.com
ShopAndretti.com
RisiTV.com
ShopRisi.com
ShopMarioA.com
MyCinsay.com
Suretonelive.com