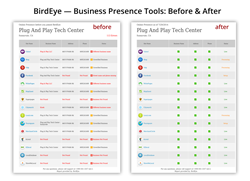 BirdEye makes it very easy for businesses to claim their online presence and add their profile to more than 50 of the important consumer sites.
Sunnyvale, CA (PRWEB) July 31, 2014
BirdEye, the leader in Online Reputation Management, announced today the addition of online presence management tools to its innovative reputation management platform. With the new presence capabilities, SMBs and Enterprises can easily, from a single dashboard: scan their online presence across the Internet; automatically create their business profile on 50+ major online consumer and review sites; fix inconsistencies in NAP (name, address, phone number); and update enhanced business content (pictures, description, hours of operation, social links) across all platforms.
"There is nothing worse than a potential customer who is not able to find you," said Andrea Trevino, Sales Manager of Hardwood Flooring Services in Austin, TX. "We outgrew our original location four years ago and changed our phone number before that. Since then, we've been frustrated by the lack of control over the sites that still report our old business listing. With BirdEye's presence management tools, all of our online business listings are now correct and up-to-date."
Businesses with a solid, consistent presence throughout the Internet get rewarded by search engines and earn higher search results. BirdEye makes it easy for businesses to claim their online presence and add their profile to more than 50 of the most important consumer sites. Then, BirdEye ensures the consistency of the business info on all those sites. Changes in business info can be applied across the board from a single control panel — instantaneously.
"Our reputation management platform enables businesses to see their "BirdEye" view — how they appear to their customers — and provides them with powerful tools to improve that view," said Naveen Gupta, CEO of BirdEye. "Fragmentation of location-based data on 100s of sites has made it impossible for any business to control their business listing manually. We've automated this process and integrated it as part of reputation management."
Availability
The BirdEye Business Reputation Platform can be previewed at http://birdeye.com.
About BirdEye
BirdEye (birdeye.com) is a leader in Business Reputation Management (BRM). The BirdEye platform allows businesses to amplify their online reputation to get more word-of-mouth referrals, leads, and repeat customers. Businesses can monitor reviews from all major sites, gain new reviews, manage customer feedback, and automatically promote their good reputation across the web, social media, and search engines. The BirdEye platform powers 500K+ businesses and 6M+ reviews. Based in Sunnyvale, CA, BirdEye was founded by alumni from Yahoo, Google, Amazon and Cisco.
For more information, contact William Moeller
william(at)birdeye(dot)com | 408.457.1348 | 800.561.3357 | http://birdeye.com