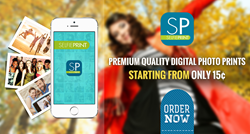 Raleigh, NC (PRWEB) July 30, 2014
The innovative mobile app known as SelfiePrint essentially allows the mobile user to take a new or upload an existing selfie photo, edit the photo with many features, order it in various poster sizes and quantities, which then gets shipped within 24 hours. The app was designed to be incredibly user-friendly with robust functionality. Printing and graphic design studio known as Image WORX Creative, who owns and operates SelfiePrint decided to hire local Raleigh web development company Imaginovation to initially build the app as well as aggressively help brand and digitally market the app on a national level to generate downloads.
Since SelfiePrint was launched on the 27th of June, 2014 for both the iOS and Android platforms, all marketing efforts were put into getting the app a maximum number of downloads, which was the ultimate goal. In order to achieve this, a multipronged strategy was devised that involved optimizing the http://www.selfieprintapp.com website for organic SEO, getting published reviews for the app, blogging, social media branding, reaching out to influencers, creative giveaways, and a pay per click campaign on Facebook. The campaign was geographically and demographically targeted to states such as New York, California, Texas, Florida, and New Jersey after having analyzed that those areas contained the most prominent audiences in downloading the app.
Due to the aggressive and strategic efforts of the digital marketing campaign in just a short time span, SelfiePrint has been featured on highly credible app review websites such as iPhoneLife Magazine and The Daily App Show. More importantly, according to analytics the app has successfully reached well over 1 million people across the country via Facebook and other social platforms, 3,000+ unique visitors to the SelfiePrint website, built an audience of roughly 3,000 Facebook likes, and notably generated almost 2,000 downloads. These achievements have been incredibly pleasing to the owners of the app as well as to the development and digital marketing team at Imaginovation.
Visit http://www.imaginovation.net to learn more about the web development and digital marketing company involved in this campaign and their passion for the online capability. Also, to try the SelfiePrint app for free, go to the Apple and and Google Play stores.