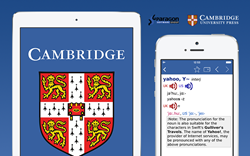 Freiburg, Germany (PRWEB UK) 30 July 2014
Paragon Software Group, the leading software developer of dictionary applications for mobiles, tablets and PCs, and Cambridge University Press, the world's oldest publisher, today announced the release of the Cambridge English Pronouncing Dictionary app for Android, iOS and Mac OS X users.
The dictionary app is based on the classic version of Daniel Jones's guide to contemporary pronunciation for British and American English, and is designed to meet the needs of English language learners striving to perfect their pronunciation of even the most challenging words, such as "though" and "honour", personal names, company names, technology and science definitions, and more.
The app includes the full wordlist and sample entries to preview before buying, making it ideal for users who want to determine whether the content is suitable for their language level, and includes the words they need or use the most. The app allows users to quickly and easily navigate through and try out the dictionary, as well as experience the most advanced search and learning features.
Learning features:

British and American audio pronunciations, recorded by native speakers of English.
Flash Card Quiz to help you memorize new words and test your pronunciation as many times as you wish.
Favourites - to help you quickly access frequently searched words.
Search History to revise your recent searches.
Table of irregular verbs provides a useful reference resource
Search and navigation features:

Full text search feature allows you to look up words more efficiently throughout the whole dictionary, including headwords and usage examples.
Easy copy-and-paste functions mean you can copy words to the clipboard for automatic entry display.
PenReader multilingual handwriting recognition support.
List of similar words in case of misspelling.
Wildcard Search if you are unsure of the exact word spelling. Use "?" and "*" symbols to replace the missing letters.
English morphology module helps to find words in any grammatical form.
Search for anagrams (e.g. tab-bat).
Hyperlinks between articles.
Interface features:

iPhone 5s and iPhone 5c support.
Enhanced customization options allow you to modify animated menus and choose background colors.
Enlarge or reduce font size for your comfort.
Landscape-mode support.
Fully iPad optimized interface.
No Internet connection required: purchase a dictionary once and use it on your iPhone/iPad/iPod touch without any additional expense.
Requirements: iOS 7.0 and above. Android 2.2 or above. Mac OS X 10.7 or above.
Availability: The app is available for the in-app purchase with the in-app dictionary catalogue "Cambridge dictionaries." Prices start at 13.99 EUR (10.49 GBP, 14.99 USD).
iOS: https://itunes.apple.com/app/id728359831?mt=8
Mac OS: https://itunes.apple.com/app/id844870200?mt=12
Android: https://play.google.com/store/apps/details?id=org.cambridge.dictionaries
-Ends-
Notes to Editors
About Cambridge University Press
Cambridge University Press is part of the University of Cambridge. It furthers the University's mission by disseminating knowledge in the pursuit of education, learning and research at the highest international levels of excellence.
Its extensive peer-reviewed publishing lists comprise 50,000 titles covering academic research, professional development, over 340 research journals, school-level education, English language teaching and bible publishing.
Playing a leading role in today's international market place, Cambridge University Press has more than 50 offices around the globe, and it distributes its products to nearly every country in the world.
For further information, go to http://www.cambridge.org
About Paragon Software Group
Paragon Software Group is an innovative software developer focused on two dynamic growth markets. The company's comprehensive product line for the data storage market addresses the needs of data security, storage and management for PCs, servers and networks. A second portfolio of products focuses on mobile productivity applications for handheld devices. Founded in 1994, Paragon Software Group has offices in the USA, Germany, Japan, Poland, Russia and China delivering its solutions to consumers, small business and enterprise clients worldwide through a network of Value Added Resellers, distributors and OEMs as well as online through the company website. For more information please visit the company's mobility division site: http://www.slovoed.com.