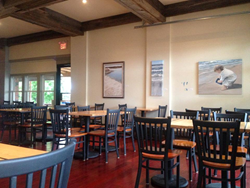 Wolfe Island, ON (PRWEB) July 30, 2014
Canada's leading restaurant furniture manufacturer and distributor, Restaurant Furniture Canada recently helped Wolfe Island Grill update its seating by supplying it with new restaurant chairs, bar stools and patio furniture.
Wolfe Island Grill is a casual fine dining restaurant, with a waterfront patio, live music, and a menu that features fresh local ingredients. Local new owners Casey and Nicole Fisher have created a whole new atmosphere at the restaurant, formerly known as "The Grill". This comfortable waterfront dining experience can be accessed by a short ferry ride from Kingston or by boat at their private dock. The food is fresh and made from local and sustainable ingredients.
The restaurant has indoor seating with a bar and dining room. There is also a large outdoor patio on the shore of Lake Ontario with a bar as well. The menu includes surf and turf with seafood entrées such as crispy fried risotto croquettes and fresh mussels. They also serve grass fed Black Angus steak, stuffed chicken and salads such as Okee greens & candy cane beets. They also serve brunch with specials such as Pork Belly Benedict, grass fed Black Angus burgers, and traditional brunch fare such as poached eggs.
"The owners of Wolfe Island Grill contacted Restaurant Furniture Canada for new bar stools, commercial chairs, outdoor tables and chairs because of their reputation for high quality at competitive prices," salesperson Chris explained. They decided to go with Restaurant Furniture Canada's Vertical Slat Chair and matching Vertical Slat Bar Stool in black finish with solid wood seats in cherry finish.
Restaurant Furniture Canada's Vertical Slat Chair sells for $44. The Vertical Slat Bar Stool sells for $65. A Vertical Slat Swivel Bar Stool is also available and sells for $69. The frame also comes in gold, copper vein, gold vein and silver vein. The solid wood saddle seat also comes in dark mahogany, walnut, cherry and mahogany finishes. Customers can choose between a solid wood seat or an American made padded seat upholstered in vinyl or fabric. The seats can be custom upholstered in any material for an additional cost.
For patio furniture, the owners purchased Restaurant Furniture Canada's Basket Back Outdoor Chair and Netted Outdoor Table Set. The Basket Back Outdoor Chair comes in slate grey in a zinc plated powder coat finish with anchors weighted to the tubes of the legs for support. The Basket Back Outdoor Chair sells for $49. The Netted Outdoor Table Set also comes in a zinc plated powder coat finish and sells for $95.
To browse Restaurant Furniture Canada's full selection of chairs, bar stools, table tops, table bases, booths and patio furniture visit http://www.restaurant-furniture.ca/ or talk to a customer service representative at (888) 998-4222 for answers to all your questions on restaurant furniture.
Wolfe Island Grill is located at 1222 Main St., Hwy #96 in Wolfe Island, ON. They can be contacted at (613) 385-1515.