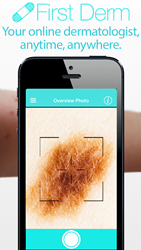 At First Derm, we're proud to be raising awareness of the prevalence of skin cancers in the United States and the importance of early diagnosis, while developing innovative technologies to improve triage times and clinical outcomes.
San Francisco, CA (PRWEB) August 05, 2014
Researchers from the University of Gothenburg in Sweden have published the largest study to date comparing the clinical outcomes of triaging with teledermoscopy to traditional written referral systems (Acta Dermato-Venereologica). Results indicate that smartphone referrals via patent-pending iDoc24® technology provided faster and more accurate prioritized management of patients with skin cancer in addition to potentially eliminating unnecessary visits.
In the study, 1,562 participants were first screened in primary care clinics for diagnosis of suspicious skin lesions. If a referral to a dermatologist was warranted, primary care practitioners sent referral notification to local dermatology clinics either through traditional written referrals (746 patients), or via smartphone referrals (816 patients) using an iPhone dermoscope (specifically the Handyscope® developed by FotoFinder® ). Using the dermoscope and iPhone, a photograph of the lesion along with a standardized query form was sent to the dermatologists electronically using iDoc24's Tele-Dermis® platform and app iDoc24 PRO™. See how the dermoscope works here.
Here were the key findings:
1. Over 40% of the teledermoscopy patients could have potentially avoided face-to-face visits.
2. When surgical treatment was required, the waiting time was significantly shorter using teledermoscopy for patients with all main types of skin cancer (i.e. melanoma, melanoma in situ, squamous cell carcinoma, squamous cell carcinoma in situ, and basal cell carcinoma).
3. 93.4% of patients referred via teledermoscopy were able to receive surgical treatment (when required) on their first face-to-face visit with a dermatologist versus 82.2% in written referrals.
4. The median time to diagnose and treat malignant melanomas was reduced from 85 days to 36 days when using teledermoscopy
5. Malignant melanomas treated were half as thick compared to patients in the control group.
The service shortens the time for diagnosis and treatment for patients with skin worries, saving time, costs, and sometimes, lives. To put these findings into practice, in May 2014, First Derm™, an anonymous consumer teledermatology app powered by iDoc24®, used the dermoscope to screen local residents for skin cancer in Dolores Park, San Francisco in an effort to raise awareness of the dangers of skin cancer and the importance of early diagnosis and treatment.
"In just two days, our team performed 99 screenings, finding 10 possible pre-cancerous lesions (i.e., actinic keratoses), 2 possible melanomas, and 1 possible basal cell carcinoma," according to Dr. Alexander Börve, founder and CEO of the First Derm™ app and its parent company iDoc24®. "We're proud to be raising awareness of the prevalence of skin cancers in the and as well as the importance of early diagnosis, while developing innovative technology to improve triage times and clinical outcomes within health care."
About First Derm™:
First Derm™ is a teledermatology consumer app by iDoc24® that delivers personalized on-demand medical information within 24 hours. First Derm™ dermatologists are board-certified and provide users with the highest quality information to make informed decisions about their health. The First Derm™ app is available for download in the app store at no cost. For more information about First Derm™, please visit https://www.firstderm.com.
About iDoc24 PRO™:
iDoc24 PRO™ is a healthcare provider app that facilitates dermatology communication between healthcare workers and a dermatologist.
About Alexander Börve, MD:
Alexander is a polyglot and orthopedic surgeon. He is now pursuing his goal of making healthcare accessible to everyone through his company iDoc24. He has published four scientific articles regarding teledermatology and gained the support of Sweden to advance teledermatology in his country and now, worldwide. He is currently a guest researcher at the school of public health UC Berkeley.
####