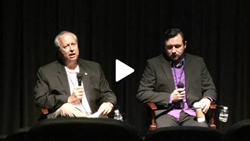 Ultimately you have to eat, the process of converting your art to dollars. -William Jarblum, Producer/CEO, Jarblum Entertainment Group
Los Angeles CA (PRWEB) July 31, 2014
In the city known as the home of Entertainment, Los Angeles, Experts discuss Financial Literacy and Distribution to help educate on the business side of the creative process.
Announcing the video for the Financial Literacy and Distribution panel was uploaded to YouTube https://www.youtube.com/watch?v=GBLiQlMw9sA for a global audience to enjoy. Filmed by http://theintellexual.com/ at the 5th Annual New Media Film Festival.
Experts on the panel include:
Eleanor Mulveny Seamans, CEO, of Seamans Capital Management, LLC, a boutique investment advisory firm specializing in energy, and global bonds was skyped in from their Boston Headquarters and spoke about Financial Literacy.
William (Bill) Jarblum, CEO of Jarblum Entertainment Group, moderated the session as well as gave film financing and distribution advice. Jarblum has had a series of creative and commercial successes producing independently financed films including most recently Thom Fitzgerald's Cloudburst.
Lon Strickland, Programming Director of Happy Hour for Machinima, . Lon spoke about programming & distribution. Machinima is the dominant video entertainment network for young males around the world.
MISSION & OBJECTIVE
New Media Film Festival: The Best in New Media-What's New, What's Next...Honoring Stories Worth Telling in all media that are innovative, imaginative and inspirational. Stories that can make you laugh, cry, think & go beyond the ordinary.
New Media Film Festival intersects the interactivity of new technologies & formats for Media & Cinema which exemplify the power of the cinematic arts to inspire and transform. A festival where we Honor Stories Worth Telling that are created by people of All Ages-All Cultures-All Media.
Each submission is considered for Screening, Distribution & Competition.
Judging by BMI, ATAS, Grammys, Oscar members and many other Industry Leaders, 20 categories to choose from and over 45,000.00 in Awards given annually.
The recent New Media Film Festival grand prize winner is "Curio Shop" A pilot directed by two time Emmy Winning Director Eric S Anderson. The deadline for the submission is April 20, 2015. Next festival is June 9 & 10th 2015 at The Landmark Los Angeles CA.
Founded by: Susan Johnston
http://www.imdb.com/name/nm0426856/?ref_=fn_al_nm_2