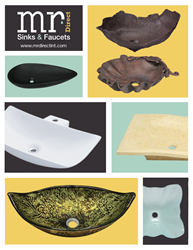 There has been a surge in the sales of more unorthodox styles.
Toledo, OH (PRWEB) July 31, 2014
It's understandable that the most-popular selling sinks are the ones designed in a traditional circular, square, or rectangular shape; and at a standard depth. Most people prefer a simple, practical, and functional sink. However, recently, there has been a surge in the sales of more unorthodox styles. MR Direct features a number of uniquely-shaped vessel sinks for the bath, constructed in various materials; and is a direct witness to this budding trend.
The most traditional sink material sold by MR Direct is porcelain and a few models in particular are gaining in popularity. The V240 and V360 are very wide models measuring up to 23.5 inches. The V330 extends even two inches further. But its not just the width that is unusual, its that these bowls are all very low and shallow, with inner depths as meager as 3.25 inches. And, although they take a rectangular form, there are no straight edges. All sides gently sweep down from their high-point corners.
The stone collection, likewise, offers wide and shallow choices. The 859 is carved granite but features wavy edges and arched corners which are visible from a side-view. The 861 has straight lines, but it extends 28 inches and dips to a mere 3.75 inch depth. And, the 863 granite sink comes in a one-of-kind teardrop shape.
In the MR Direct glass line, the 609 and 643 models feature a leaf shape. A wavy, flower-petal shape is available in the 611 and 612. And further, for the bamboo lover, the 892 flaunts a low profile with graceful symmetrical curves.
Perhaps the most dramatic shapes are in the MR Direct collection of bronze vessel sinks. These bowls may have proportions which are in the range of traditional sinks, but that is where any comparison ends. The 952 and 959 models are designed as replica clam shells with irregular wavy edges. The 961 and 963 mimic oyster shells. The 951 has the spiral design of a snail shell, and the 964 is perhaps the most unusual as an imitation of a sea urchin. The textures and the organic curves of these bronze offerings make them stunning choices.
Watch for more unusual shapes to hit the vessel sink market as homeowners continue to express themselves through their home décor. All MR Direct sinks, faucets and accessories can be viewed by visiting http://www.MRDirectint.com.