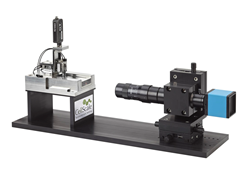 biophysical signals interact with biochemical cues to control many aspects of embryo development
Waterloo, ON (PRWEB) August 01, 2014
Testing the mechanical properties of microtissues by researchers has led to a better understanding embryonic development. How and why embryonic stem cells differentiate and reorganize into structurally and functionally distinct tissues is important because abnormalities can lead to devastating physical defects. Prof. Todd McDevitt, Melissa Kinney, and Rabbia Saeed worked from the premise that biophysical signals interact with biochemical cues to control many aspects of embryo development. In their recent study published in Nature Scientific Reports (http://www.nature.com/srep/2014/140306/srep04290/full/srep04290.html?WT.ec_id=SREP-631-20140311), the team assessed the mechanical changes in 3D stem cell microtissues and linked these changes with cell differentiation and tissue morphology changes.
The team used the CellScale MicroSquisher (http://www.cellscale.com/products/microsquisher) to perform mechanical testing of the 3D tissues, which were 200-500µm in size. The unique ability of the MicroSquisher to resolve small forces was critical for this application, where the peak forces were less than 20µN.
This data will enable a better understanding of embryonic development, which is critical developing strategies to prevent many birth defects. The data will also enable the development of new approaches to direct the differentiation and patterning of 3D microtissues for further research in drug development and tissue repair.
CellScale is an industry leader in providing researchers with precision biomaterial and mechanobiology test systems. Currently, you can find our products being used by world class academic and commercial organizations across the globe.
Our mechanical test systems are specifically designed for analyzing and characterizing the material properties of natural and artificial biomaterials.
Our mechanobiology technology helps advance research by providing insights into the response of cells to mechanical stimulation – a key factor in the pursuit of the next revolution in medical treatments.
Caleb Horst, Director of Business Development
CellScale Biomaterials Testing
519-342-6870