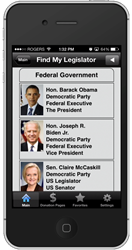 Our clients will be able to quickly engage their members, and in turn, help to fight for legislative change - Bruce Brownson, CEO of KnowWho
Mt. Vernon, Virginia (PRWEB) July 31, 2014
Purple Forge and KnowWho today announced their partnership to extend KnowWho's political and legislative data information onto Apple, Android, BlackBerry and other mobile devices. This partnership has already been successfully battle-tested in a number of organizations, including the Missouri NEA, who was awarded a Gold Pollie™ from the American Association of Political Consultants for the Best App for an Internet or Public Affairs campaign.
"Purple Forge's mobile application expertise and KnowWho's clean, comprehensive legislative data at the federal, state and local level will continue to allow us to deliver the most innovative experience to our clients," said Bruce Brownson, CEO of KnowWho. "Our clients will be able to quickly engage their members, and in turn, help to fight for legislative change."
Mobile applications now comprise over 86% of daily Smartphone usage according to Flurry Analytics, and association, union and advocacy organizations have started to leverage mobile apps as the key way to engage their members through features such as advocacy postcards, find your legislator and get-out-to-vote initiatives. KnowWho will be attending the NCSL Legislative Summit in Minneapolis from August 19-22 and will be available to discuss the value of mobile apps combined with their data and advocacy tools.
"Purple Forge is pleased to partner with KnowWho whose client base is very active in the pursuit of the latest tools to enact legislative change," said John Craig, Vice-President of Sales and Marketing at Purple Forge. "Together, we offer a well matched portfolio to drive best of breed services for political advocacy and engagement across any platform."
About Purple Forge
Purple Forge sells subscription based services to organizations looking to engage their stakeholders using the latest mobile application technology and leveraging community engagement and social networking best practices. Purple Forge is an award-winning firm led by seasoned mobile communications and Internet technology veterans. Our mobile applications allow organizations to broadcast, share and receive feedback from their target audience real-time, allowing them to foster long-term, engaged relationships.
Contact: john.craig(at)purpleforge(dot)com
About KnowWho
KnowWho continually maintains all US Congressional, and State Executive and Legislative candidate data. We don't just rush to build something as election days get closer, so you always have access to the most current campaign information. Whether you're looking for just contact information or bio information, photos and more our candidate data will help you sell to or dive deeper into the campaigns.
Contact: jplummer(at)knowwho(dot)com