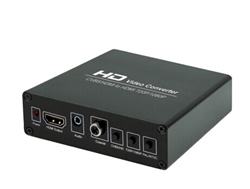 (PRWEB) July 31, 2014
Recently, Hiconn Electronics, a renowned HDMI product manufacturer and retailer in China, has unveiled its latest designs of the VGA+R/L Audio to HDMI Converters and started to offer coupons to the international customers.
"We are happy to announce our new products and provide worldwide customers with the VGA+R/L Audio to HDMI Converters. The newest items are featured with elaborate design and fine craftsmanship. We want to expand our online market share in a short time," a senior spokesman for the company said.
Here is some detailed information on VGA+R/L Audio To HDMI Converters from Hiconn Electronics:

Easy to use, installs in seconds, no settings and it is a resolution pass-through converter
Purely for conversion between video formats but not convert the input/output video resolutions
Aluminum shell
Compliant with HDMI 1.3
VGA input: 640*480@60Hz, 800*600@60Hz, 1024*768@60Hz, 1280*720@60Hz, 1280*768@60Hz, 1280*800@60Hz, 1280*1024@60Hz, 1360*768@60Hz, 1600*1200@60Hz, 1920*1080@60Hz, 1920*1200@60Hz
Audio for input – 3.5mm
HDMI output – upto 1080P
Coming with certified 5V 1A power supply
Retail paper box
In addition, Hiconn Electronics has won a high admiration and is widely trusted all over the world. It is famous for its high quality devices at cost-effective prices. The company will create more useful adapters for worldwide clients in 2014.
About Hiconn Electronics
Hiconn Electronics (Shenzhen Hiconn Electronics Co. Ltd.) is devoted to designing and manufacturing a wide range of connection cables and customized cable assemblies, offering many HDMI cables, VGA cables, SATA cables, USB cables, 1394 cables, DVI cables, SCSI (Small Computer System Interface) and more. For more information, please visit http://www.hiconn.net/.
Contact Person: James Yin (Sales Director)
Company Name: Shenzhen Hiconn Electronics Co., Ltd.
Address: Shenghua Building., Xixiang Road., Baoan District, Shenzhen, Guangdong Province, China
Zip Code: 518102
Tel: +86-755-8109 8345
Fax:+86-755-2779 3497