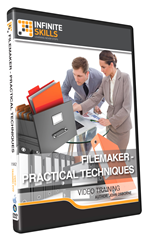 Learn FileMaker - Practical Techniques at Your Own Pace
(PRWEB) July 31, 2014
Software training firm Infinite Skills Inc. last week released its FileMaker - Practical Techniques Tutorial, an intermediate-level course designed to help FileMaker users with a basic understanding of the program begin exploring its advanced features and capabilities.
FileMaker Pro is a relational database application that combines a database engine with a graphical user interface, allowing users to manage databases by dragging and dropping on screen.
Infinite Skills' FileMaker - Practical Techniques Video Tutorial teaches skills essential to learning to develop and enhance FileMaker solutions by guiding users through the development of an intermediate-level database application, a contact manager, and introducing key concepts in solution development along the way.
FileMaker - Practical Techniques Video Training - Streaming
Course author John Mark Osborne was one of the original trainers authorized by Claris for FileMaker. He began his career in tech support for the program, and has continued to publish and train others on its use for more than twenty years. He has been recognized with the Excellence Award for Development and Technical Resources by FileMaker.
Osborne starts with the first stage of the development process, explaining how to plan the solution and create an entity relationship diagram. Students learn how to incorporate elements such as source tables, fields, and relationships, and create a "harmonious" layout for the contact manager.
The course then begins creating the various components of the solution, as Osborne takes users in-depth with FileMaker automation, covering concepts such as navigation, basic security, creating an open script, and more.
The course then looks at table occurrences, where users learn anchor buoy relational design, using related fields, portals, and more.
Next, the course shows how to perform calculations using contact information to perform tasks like phone validation.
Other chapters explore correspondence, such as working with email and attachments in FileMaker, and complex data relationships such as join tables, links tables, conditional formatting, and other conditional operations.
The course closes with a chapter devoted to adding extra features to the program such as a reminder system, dynamic custom menus, and fixing bugs.
"Creating your own solution is really the best way to use FileMaker," Osborne explains. "Not only is it easier to modify your database, but being able to use FileMaker in this way means you'll be able to create solutions that fit your exact needs."
"This course is based on producing a single solution. After years of training FileMaker, I'm convinced that it's the best way to ensure that students retain the knowledge covered in the course."
Free demo videos and a full list of course contents can be found on the FileMaker - Practical Techniques Tutorial training page on the company website.
http://www.infiniteskills.com/training/filemaker-practical-techniques.html
Infinite Skills offers its FileMaker - Practical Techniques Tutorial either as a DVD or a direct download from the company website at a retail price of $49.95, or as part of its subscription streaming service available at a rate of $25 per month. Though the compatibility of programs varies, all Infinite Skills titles and formats work on both Mac and Windows operating systems, and shipping is available around the globe. Additionally, Infinite Skills tutorials are supported by project files which correspond to examples in the videos.
About Infinite Skills Inc.
A leader in the field of software training, Infinite Skills designs its courses on a task-oriented model, teaching complex skills by providing hands-on examples and guiding users as they carry out essential functions. Infinite Skills offers a wide range of software titles available as DVDs, digital downloads, and in iPad editions. Infinite Skills now offers a subscription service, providing access to all its training content for a monthly fee, keeping with company's aim of delivering professional training to customers anywhere they want to learn.