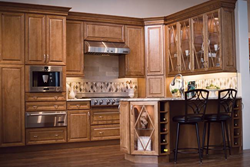 Kitchen Remodeling made easy with 10-50% savings.
Indianapolis, Indiana (PRWEB) July 31, 2014
DirectBuy of Indianapolis is excited to be hosting a Kitchen Remodeling Event on Saturday, August, 23, 2014 from 10 a.m.-3p.m. at the showroom located at 8450 Westfield Boulevard in Indianapolis. This event is open to the public and not restricted to DirectBuy members.
DirectBuy members have access to over 700 suppliers and one million name-brand products at manufacturer prices, without the markup associated with shopping the traditional retail way.
We're fortunate to be able to offer kitchen remodeling as one of our specialties at DirectBuy of Indianapolis. With an in-house specialist, Holly Denihan, and a dedicated and knowledgeable service staff to help with any project, our members are very happy not only with the final look of the project, but with the service, selection and value they receive at DirectBuy. Holly offers full kitchen design and helps connect members with well qualified contractors to have a great transformation to the dream kitchen.
The Kitchen Remodeling Event will feature one of our most popular DirectBuy of Indianapolis cabinetry vendors, Norcraft. The vendor will be present to answer questions about their products, give suggestions and will give a presentation at 11:30 that will guide one through the many steps of a variety of Kitchen Improvement projects.
While DirectBuy offers many mid to high-end products for any Home Improvement project, one of the best reasons for letting DirectBuy of Indianapolis help with an upcoming home project is the unprecedented value.  DirectBuy of Indianapolis offers over one million products from over 700 quality manufacturers to its members at manufacturers' pricing. Because DirectBuy offers direct purchasing from the manufacturer, members can save 30%, 40% and up to 50% off of the "sale" price of the big box store, even the internet. When considering a home remodeling project either for the kitchen, bathroom, family room, bedroom or any room in the home, as well as exterior improvements; roofing, windows, siding, etc., buying direct allows consumers to save substantially while inspiring the lifestyle they deserve.
DirectBuy of Indianapolis invites consumers to a Free Savings Seminar to share details on how DirectBuy members can purchase items at direct manufacturing prices from over 700 suppliers. In many cases, consumers find they can purchase higher quality products at lower prices. Visit us at http://www.directbuyindy.com to find out more.  
Schedule a Free Savings Seminar by calling (317) 472-9817 and receive a VIP Package at the time of the visit. DirectBuy of Indianapolis is located at 8450 Westfield Boulevard which is close to the Range Line and Westfield Boulevard intersection, next to the YMCA.
Bring ideas and questions. We look forward to seeing everyone at the Kitchen Remodeling event.