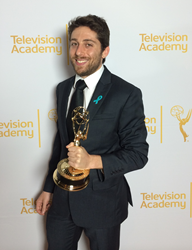 Los Angeles, CA (PRWEB) August 01, 2014
Filmmaker Maury Shessel accepted the award for best Public Service Announcement at the 66th Los Angeles Area Emmy Awards ceremony. The public service announcement (known in the media as a PSA) entitled "Help a Soldier Heal" is a 30-second piece that aired on CBS 2 Los Angeles (KCAL 9) throughout the summer of 2013. It was part of a larger campaign by CBS 2 and the University of Southern California's Media Institute for Social Change to produce PSAs for non-profit organizations. Shessel was one of three graduate students invited to partner with CBS on this project.
His piece brings awareness to the plight of veterans still suffering from Post-Traumatic Stress Disorder long after the Afghani and Iraqi wars have fallen off the media's radar. "The war is over, but for some soldiers it will never be," said Shessel when he accepted the Emmy. That's the message that he hopes will not be lost in the coming years as the wars of the early 2000s move further and further into the past.
"Help a Soldier Heal represents a major collaboration," says Shessel. The California-based charity Operation Gratitude lent their cause to this CBS-USC production. Actor Keith David (Platoon, Armageddon) lent his voice as the narrator, and actors Josh Ventura from TV's Nashville and Anne Popolizio lent their faces to the screen.
The CBS documentary "The Power of the PSA *or how to change the world in 30 seconds" explores the making of the PSAs for the 2013 campaign by following behind-the-scenes with the three USC writer/directors who created them. Delving into the history of PSAs in America, the documentary discusses where PSAs originated and how they are still relevant. It also took home an Emmy at the awards ceremony, winning in the Education category.
Maury Shessel is based in Los Angeles. He graduated with an MFA from USC's prestigious School of Cinematic Arts in 2013. His thesis, the short-film Billy in Motion, took home the prize for Best Sports Film at the Canada International Film Festival in Vancouver earlier in the year. Shessel originally hails from Toronto, Canada and has had a close relationship with the military there. He is a former member of the Canadian Forces Army Reserve.