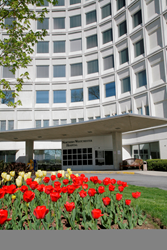 Mt. Kisco, New York (PRWEB) July 31, 2014
Northern Westchester Hospital (NWH) is pleased to announce that it has been re-accredited as a CEO Cancer Gold Standard™ employer for 2014, once again recognizing the Hospital's extraordinary commitment to fighting cancer in the workplace. In 2012, NWH was the first and only hospital in Westchester County, NY to receive this accreditation. The Cancer Treatment and Wellness Center at Northern Westchester Hospital also provides state-of-the-art cancer treatment for those in our community.
The CEO Cancer Gold Standard™ calls for companies to evaluate their health benefits and corporate culture and take extensive, concrete actions in five key areas of health and wellness to fight cancer in the workplace. To earn Gold Standard accreditation, a company must establish programs to reduce cancer risk by discouraging tobacco use; encouraging physical activity; promoting healthy nutrition; detecting cancer at its earliest stages when outcomes may be more favorable; and providing access to quality care, including participation in cancer clinical trials.
"We continue to be committed to providing our staff members with programs and tools that help them understand their current health status and to get healthier. Once again, we are extremely proud to receive this accreditation in recognition of these efforts and to be recognized as a Gold Standard employer," said Joel Seligman, President and CEO, Northern Westchester Hospital. "We are proud to continue our mission to improve and protect the health of individuals in the community through programs that promote healing and wellness, and our staff is a vital part of that community."
The CEO Roundtable is comprised of chief executives from more than thirty major American companies representing diverse industries, from nonprofit organizations that are committed to fighting cancer, and from several National Cancer Institute-designated cancer centers. Christopher A. Viehbacher, CEO of Sanofi, serves as the Chairman of CEO Roundtable on Cancer. Today, more than 2.7 million employees and family members are benefiting from the vision and leadership of employers who have been Gold Standard accredited.
This honor was made possible by the hard work of the NWH Wellness Committee, volunteer staff members who are committed to making NWH a healthier workplace. The Committee develops wellness programs to meet many employee needs. Programs available to staff include: Free health risk assessments and on-site biometric screenings that enable staff to learn about their current health status and how to minimize personal health risks; access to a wellness coach and online tools. Lunch and learns on topics such as 'sun safety and melanoma prevention,' and 'stress and inflammation' are offered. Walking programs and 'Fun Runs' are among the many wellness initiatives in place.
In addition, nutrition counseling is made available, a fitness reimbursement is offered and customized, on-site smoking cessation programs with free nicotine replacements are available to staff members.
Each step towards a healthier lifestyle is encouraged through various incentives as well as ensuring a breadth of opportunities that appeal to our diverse employee population.
About Northern Westchester Hospital
Northern Westchester Hospital (NWH) provides quality, patient centered care that is close to home through a unique combination of medical expertise, leading edge technology, and a commitment to humanity. Over 700 highly skilled physicians, state-of-the-art technology and professional staff of caregivers are all in place to ensure that you and your family receive treatment in a caring, respectful and nurturing environment.
NWH has established extensive internal quality measurements that surpass the standards defined by the Centers for Medicare & Medicaid Services (CMS) and the Hospital Quality Alliance (HQA) National Hospital Quality Measures. Our high quality standards help to ensure that the treatment you receive at NWH is among the best in the nation. For more information, please visit http://www.nwhc.net and connect with us on Facebook.
About The CEO Roundtable on Cancer
The CEO Roundtable on Cancer was founded in 2001, when former President George H.W. Bush challenged a group of executives to "do something bold and venturesome about cancer within your own corporate families." The CEOs responded by creating and encouraging the widespread adoption of the CEO Cancer Gold Standard, a comprehensive program designed to combat cancer from every angle by focusing on prevention, early detection and quality care. For more information on the CEO Cancer Gold Standard™ and the web-based accreditation process and support, please visit http://www.CancerGoldStandard.org.
Contact:
Gretchen Mullin
Associate Director of Marketing & Communications
Northern Westchester Hospital
gmullin(at)nwhc(dot)net
914-666-1266