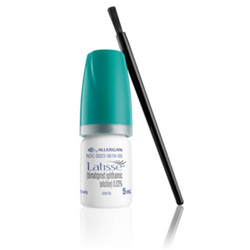 When I started out on X-Factor, I used Latisse on my eyebrows, not my lashes…it's a miracle!
(PRWEB) July 31, 2014
LatisseNews.com - Latisse, the only FDA approved product proven to safely grow longer eye lashes with over 5.5 million bottles sold, is used by many to grow thicker eyebrows too. Whether you're not genetically blessed with full brows, you over pluck, or you just want to keep up with the latest thicker-brow celebrity trends, Latisse used on brows seems to be the sizzling beauty secret.
Respected beauty periodicals are feeding the lush eyebrow fashion frenzy. Vogue magazine lists Latisse in their "Guide to a Better Brow." Latisse is highlighted in Elle magazine's "How to maintain lashes and brows." The Huffington post's "How To Grow Thicker Eyebrows Like Emma Watson And Camilla Belle" also spotlights Latisse.
While many celebrities are suspected of using Latisse for stunning brows, during a recent interview with New York City radio 92.3 NOW*, Demi Lovato the world famous American actress and singer, shared her secret to her trend-setting eyebrows, "When I started out on X-Factor, I used Latisse on my eyebrows, not my lashes…it's a miracle!"
Thanks to Allergan, the US based manufacturer of Latisse and other anti-aging products such as Botox & SkinMedica, consumers now have an answer to look their absolute best; such as Dana Gaiser as she prepared for her wedding day, "I had this one spot on my right eyebrow that would never grow," she said. "But I put Latisse there and now it's back."
When it comes to safety, there are various urban myths and negative mudslinging by competitors, but there have been zero official reports of major side effects from using Latisse as directed for longer lashes. But is it safe when applied to brows? In a recent New York Times article** - Brow Of The Decade, How To Get Full Eyebrows Back - Dr. Doris Day states, "The first thing I do for my patients who want fuller brows is write them a prescription for the eyelash-growth medication Latisse." Though the drug is not yet officially approved for use on brows, Dr. Day said that her clients had seen "amazing results."
Dr. David Bray, MD via RealSelf.com adds, "Although eyebrow growth is not the intended use, I have a lot of patients who have experienced positive results when Latisse is applied to their eyebrows."
While Latisse can be purchased in doctors' offices, we've found the best prices online. Our recent study highlights the best places to buy. Results of thicker lashes or fuller brows can be seen after a number of weeks, so patience and diligence with Latisse is a must.
Consumers who have questions about Latisse should always consult with their doctor.
For more information about Latisse, visit LatisseNews.com

** 7/23/14 New York Times Latisse brows article