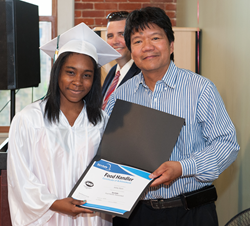 We are delighted that many of the YouthBuild students have shown an interest in participating in our Culinary School and look forward to helping them obtain a new skill which will assist them in finding employment
Paterson, NJ (PRWEB) July 31, 2014
Eva's Village has been dedicated to fighting homelessness and poverty for over 32 years. The New Jersey Community Development Corporation (NJCDC), a private, non-profit community development and social service agency has a mission of creating opportunities to transform lives. Both of these organizations focus their work in the City of Paterson, New Jersey where the median household income is $34,302 ($36,878 less than their fellow citizens in New Jersey).
Eva's Village began a partnership with NJCDC this year through the Great Falls YouthBuild Program to help students in the program enroll in The Culinary School at Eva's Village, a private vocational school certified by New Jersey's Department of Education and the Department of Labor and Workforce Development. The school was established by Eva's Village to provide job training and placement in the food service industry for adults 18 years or older interested in attaining careers in the culinary profession. Upon completion of the YouthBuild Program, students will be able to enroll in the culinary school as well as receive ServSave's Food Handler and Protection Manager Certification instruction and testing. "We are delighted that many of the YouthBuild students have shown an interest in participating in our Culinary School and look forward to helping them obtain a new skill which will assist them in finding employment," states Marie Reger, executive director at Eva's Village.
Based on a proven national model, Paterson Great Falls YouthBuild (PGFYB) is an intense 10 month program in which participants of the program experience transformational change. We rebuild our youth, while rebuilding the community. This is done through intensive High School Examination (HSE) prep courses, vocational training through the Construction component – which is the core of the YouthBuild model – in addition to providing participants with on-the-job training and certifications that increase their employability upon graduation. Moreover, PGFYB includes leadership development, computer training and job readiness within the curriculum, along with pre-graduation counseling and post-graduation placement. "Offering different vocational tracks opens another door for the youth of Paterson, giving them a choice about the direction of their future," stated David Robertson, program director of Paterson Great Falls YouthBuild. "The partnership with The Culinary School at Eva's Village offers the students an alternative option to meet their ultimate goal of self-sufficiency."
For more information about the Culinary School, contact: Donna Marie Fico, Director of Marketing & Education – Phone: (973) 523-6220 Ext. 230 or e-mail Donna(dot)Fico(at)evasvillage(dot)org.
About Eva's Village:
Eva's Village (http://www.evasvillage.org), originally a New Jersey soup kitchen, was founded in 1982 by Msgr. Vincent E. Puma in response to the increasing incidence of homelessness in his Paterson, NJ parish. But Msgr. Puma soon realized that a soup kitchen was not enough. With the generous support of thousands of donors and private and government grants, Eva's has grown to be the most respected anti-poverty organization in New Jersey. Their mission is to feed the hungry, shelter the homeless, treat the addicted and provide medical and dental care to the poor with respect for the human dignity of each individual. Eva's Village maintains a consistent "Four Star" (most preferred) rating by Charity Navigator, the "Online Guide to Intelligent Giving." Hundreds of generous volunteers serve at Eva's Village in a number of ways, including serving in our community kitchen and medical and dental clinics, donating food and other supplies, providing in-kind services, and conducting a wide variety of vital fund raising programs.
About NJCDC:
Dedicated to creating opportunities to transform lives and neighborhoods within the City of Paterson, New Jersey Community Development Corporation(NJCDC) is a private, non-profit community development and social service agency focusing on youth development, education, affordable and supportive housing, and school-centered neighborhood revitalization. Founded in 1994, NJCDC serves over 2,000 children, teens and families daily, and strives to fulfill its vision that all 5,000 children living in the Great Falls neighborhood will reach adulthood ready for a successful future. For more information, visit http://www.njcdc.org.
About Paterson Great Falls YouthBuild:
The Paterson Great Falls YouthBuild(PGFYB) program is based on a national model consisting of 264 YouthBuild programs across 46 states, Washington, DC, and the Virgin Islands engaging approximately 10,000 young adults per year. An affiliate of YouthBuild USA, PGFYB is sponsored by the New Jersey Community Development Corporation (NJCDC). Since 1998, PGFYB has serviced over 400 truancy and disenfranchised youth by providing High School Examination (HSE) prep, vocational training and job readiness training.
PGFYB offers its services to the young adults of Paterson, NJ ages 16-24. Annually, 200+ out-of-school youth apply to the PGFYB program. After a rigorous three-week-long Mental Toughness process where applicants' desires, motivations, and compliance are tested, approximately 75 of the 200+ applicants are selected to matriculate as YouthBuilders.
For more information on the Paterson Great Falls YouthBuild, contact David Robertson, Program Director, at 973-345-5516 ext. 19 or e-mail at drobertson(at)njcdc(dot)org.