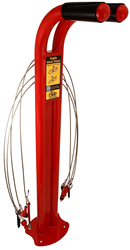 Clifton, NJ (PRWEB) July 31, 2014
Designed to be bolted into concrete to prevent theft, these products provide cyclists the ability to inflate their tires and make minor repairs when bike pumps are not available or bike shops are closed or distant. Potential installation locations include college and corporate campuses, dormitories, multi-family bike rooms, bike shops, downtown areas, parking garages and other locations where bikes are parked, stored or frequent.
Martin Erim, Velodome's marketing director states that "these products complement Velodome's current product lines and are in keeping with our mission to expand bike transportation infrastructure. Furthermore, providing them helps foster a sense of community and connectedness."
Bike Fixtation is the manufacturer of the products for which Velodome is an authorized distributor. The MSRP for the indoor bike pumps start at $345 while heavy duty outdoor models in stainless steel can sell for up to $1200. The public work stands are designed for indoor and outdoor use and an array of common bike repair tools are tethered to the stands with cables. In addition, Velodome is offering an electric air pump that can be wall mounted or attached to a metal stand.
About Velodome Shelters
Velodome Shelters specializes in innovative bicycle parking shelters and bike racks that protect bikes from the elements and deter theft. In addition to their standard models, their creative team designs custom bike parking solutions for virtually any location.
Bicycle Parking Solutions for a Greener World™