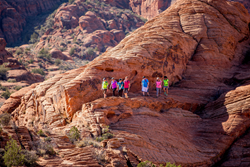 "It was the beginning of an amazing journey back to living. I am now in the best shape of my life." - Elaine
Ivins, UT (PRWEB) July 31, 2014
Fitness Ridge announced today that they will be rebranding to Fitness Ridge. With the brand change comes more involvement by the Fitness Ridge founders – a new lecture series featuring the "reality model" used by Franklin Covey to shape behaviors, trips to Zion's National Park, a more affordable resort pricing structure, and a renewed focus on long-term health and wellness.
Cameron Kelsh, Co-founder, says, "We have always had a great weight loss program, we really just want to focus on the qualities that differentiate Fitness Ridge. We want to change the way people feel about health and wellness and we feel we can do that better by moving away from The Biggest Loser brand."
Michelle Kelsch, Co-founder and creator of the weight loss program, said, "We want to provide the best wellness program available and this change will better facilitate our vision." At Fitness Ridge, there is no "magic bullet." There are no supplements, powders, lotions, wraps, or fad diet. The results-oriented boot camp style program focuses on exercise, healthy nutrition and education, and the owners want to make sure that remains the focus.
All you have to do is talk to the resort clientele to see how the program works. Elaine, who lost 100 pounds during her long-term stay at Fitness Ridge, says, "It was the beginning of an amazing journey back to living. I am now in the best shape of my life."
Cameron comments, "As we look forward to change, our staff remains focused on improving the health and well-being of the world, one person at a time. We are committed to changing the way people feel about fitness. This is the greatest change a person can make; our health affects every aspect of our lives"
Contact: Phillip Craven
Tel. 435-673-6600
Email: pcraven(at)fitnessridge(dot)com
About Fitness Ridge:
Fitness Ridge provides one of the most affordable, calorie-controlled, structured programs in the health and wellness resort industry. Designed to give lasting results, guests will experience a boot-camp style program that features incredible hiking, stimulating cardio and stretch classes, delectable, low-calorie spa cuisine, and practical education on how to live a healthy lifestyle. Fitness Ridge began in 2002 as collaboration between Tami Clark and Michelle and Cameron Kelsch, three experienced entrepreneurs dedicated to health and wellness. In 2009, the resort partnered with the Biggest Loser, incorporating the new name, and joined together on other Biggest Loser products.
The resort is located on 10 acres, just minutes from Snow Canyon State Park, and surrounded by incredible scenery of majestic red bluffs, towering vermilion sandstone, and black lava rock. It is an exceptional weight loss destination and the perfect place to jump-start your health or maintain a healthy lifestyle.
In 2009, members of Spas of America voted Fitness Ridge #1 Most Popular Spa, in consideration with over 700 other resort, hotels, and destination spas listed on the national website.