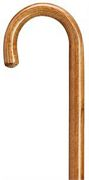 Mobility Walking Canes
Orlando, Florida (PRWEB) July 31, 2014
Walking-Canes.Net has recently added new articles about the use of walking canes when a person has a disease that requires the use of a mobility aid on a daily basis. The articles are written by a medical doctor and have important information about using a mobility device when the gait of a person is being hindered by the disease. The new informational articles are included in the new Mobility Research Project area of the website.
The articles are written about diseases such as Multiple Sclerosis and Gait Abnormalities, Obesity and Problems with Walking, Parkinson's Disease and the effect it has on the gait, Diabetes and how it effects the gait, and also Osteoarthritis and how devastating it can upset walking and balance. A consumer can research information on how certain diseases can cause the gait to be abnormal and why it can help to use a device.
Many of the walking canes sold today are used for a medical purpose rather than a fashion item. However, it is always nice to be able to find a cane when the need arises that has both function and style combined to meet the needs of the consumer. Any disease can cause the need for mobility item and the website offers many styles to choose from. Take a look at the menu on the website for all the types and styles of walking canes offered. A consumer may choose walking canes made from wood, aluminum, bamboo, or even the all new lightweight carbon.
The articles listed in The Mobility Research Project can offer assistance in helping understand why a cane or mobility device may have to become a part of everyday living. If assistance is needed in helping choose a walking cane or understanding the different types available please contact the customer service department and one of the representatives can assist you. The toll free number is 1-888-928-1774.