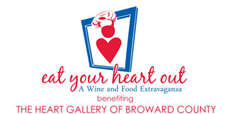 Fort Lauderdale, FL (PRWEB) July 31, 2014
The Heart Gallery of Broward County will hold its signature event, "Eat Your Heart Out" on Thursday, October 9th at the Galleria Mall in Fort Lauderdale for 6:30-9:30 p.m. All of the proceeds benefit the programming efforts of the Heart Gallery of Broward. The innovative programs like the traveling photo exhibit and kiosk increase awareness and promote adoption and enrichment of the foster children in Broward County. The Organization's main goal is to increase the number of adoptions by highlighting the exposure through innovative programs and public awareness.
In addition to the efforts listed above The Heart Gallery has also kicked off their mentoring series which will be held in partnership with community and business sponsors to aid in the cultural enrichment and education initiative to benefit foster children.
"This is a very important fundraiser for us and I invite all community leaders to contact me to see how they can help support Broward's foster children." Commented Yvette DuBose, Executive Director of The Heart Gallery of Broward County. "Last year's event raised $45,000.00 and our goal this year is $60,000." She added
There are several restaurants that are supporting the event as sponsors. The list includes The Funky Buddha, The Melting Pot and Blue Martini.
The promotion of the event is being donated by our corporate sponsor J.M. Field Marketing, a full service marketing and fulfillment company.
There are several sponsorship opportunities ranging from $1000 – $10,000 donations. For more information on the different packages please contact Yvette DuBose at 954-918-3008 or yvette(at)heartgalleryofbroward(dot)org.
If you would like to attend the fun-filled evening and enjoy food specialties from some of Broward's finest restaurants and caterers you can purchase tickets in advance for $75.00 or $100.00 at the door.
About The Heart Gallery of Broward County
The Heart Gallery's mission is to provide innovative programs that help to promote the adoption and enrichment of Broward's foster children. It is one of over 100 independent heart galleries across the country. We work closely with ChildNet and the local foster care providers to seek adoptive families and other connections for these children. The first exhibit was introduced in April of 2007.
The Heart Gallery of Broward County is a traveling photography exhibit of foster children who are waiting to be permanently adopted. The Gallery is unique: in concept- it is displayed in many public places just like an art exhibit- and in execution- every photograph is a vibrant composition taken by a professional photographer. Coupled with a bio card that describes each child's personality and interests.