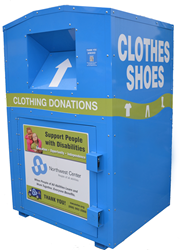 (PRWEB) July 30, 2014
From local farmers to local non-profits, Foley's Produce is building on its commitment to the people of its community. Foley's Produce (foleysproduce.com) has teamed with Puget Sound based non-profit Northwest Center to give back to the community and protect the environment by hosting a convenient drop-off bin for textile recycling that supports local children and adults with developmental disabilities. Customers and residents are encouraged to donate re-usable clothing, linens, towels, shoes and other household textiles by dropping off bagged items at the collection bin, located at 21419 Renton-Maple Valley Road SE.
According to the U.S. Environmental Protection Agency, Americans discard 85 percent of unwanted clothing and shoes into the trash each year, amounting to more than 11 million tons of textiles added to landfills annually. Recycling these items benefits local families and the community by providing lower cost clothing options, reducing landfill waste, and supporting local charities.
Proceeds from donations collected at bins are used to fund the wide range of services provided by Northwest Center. Donations are tax deductible, and tax receipts are available online at bigbluetruck.org or at host sites.
ABOUT NORTHWEST CENTER
Northwest Center offers essential support to people with developmental disabilities by offering early intervention, inclusive classrooms, employment services, and jobs. When people of all abilities learn and work together, everyone benefits. Learn more http://www.nwcenter.org.