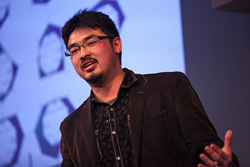 With the innovative DreamSphere app recently launched, along with our full website redesign, ensuring a fantastic user experience is a top priority for us.
Reston, VA (PRWEB) July 31, 2014
Dreams Book announced today that respected user experience expert Yu-Kai Chou has joined the Dreams Book Board of Advisors. Chou will lend his considerable expertise to improving the overall user experience of the DreamsCloud website, as well as the recently released DreamSphere app, with the goal of encouraging positive user engagement and interaction.
"We are thrilled to have an expert of Yu-Kai's stature on board as a member of our team," said Jean-Marc Emden, CVO and co-founder of DreamsCloud and its parent company DreamsBook Inc. "As an advisor, Yu-Kai's goal will be to create delightful experiences in Dreamsbook's products, and really make the experience of recording, sharing and interacting through dreams more exciting and engaging."
Previously, Yu-Kai was the co-founder and CEO of RewardMe, a digital loyalty platform that was rated by AlwaysOn as one of the Top 10 Private Companies to Watch. RewardMe also won Best Commercial App at the first location-based service awards "The Locals." Yu-Kai has been a pioneer in the field of Gamification and User Experience (UX). He has been a regular speaker at events such as SxSW, Tedx, and many others, and has delivered lectures on user experience all around the world.
"With the innovative DreamSphere app recently launched, along with our full website redesign, ensuring a fantastic user experience is a top priority for us," said Emden. "Yu-Kai's expertise has already begun to pay dividends for us. Dreams are an integral part of who we are, but up to this point, it's mostly a topic that people just wonder about on their own without having reliable ways to discuss and better understand them. Dreams Book and DreamsCloud provide the functionalities to do this, and his experience helps create the motivation to do so through the Discovery, Onboarding, Scaffolding, and Endgame phases of dream exploration."
DreamsCloud is the most comprehensive resource on dreams and dreaming on the web and social media. The recent launch of the DreamSphere app has taken the unique Dreams Cloud experience into the mobile arena, and is now connecting more dreamers than ever before and helping them to better understand themselves through dreams.
About Reflections
DreamsCloud is of the belief that only the dreamers can truly know the meaning of their dreams and that no other person can provide definitive dream interpretation. Upon the user's request, DreamsCloud Reflectors provide insightful feedback, gleaned from years of study in the dreams field, to help the user to better understand their dreams. DreamsCloud reflections are not a substitute for psychotherapy or other professional treatment and should not be used as such.
About Dreams Cloud
Dreams Cloud, a subsidiary of Dreams Book Inc. (DBI), is a social platform and resource for people of all ages with an interest in exploring dreams and the unconscious mind. Through its website, mobile apps for all smart devices, and strong presence in social media, Dreams Cloud delivers entertaining and informative content, tools and resources, and a community for within which users can interact and explore dream meanings The website and apps provide its members with tools to log their dreams, create dream journals, save them privately or share them publicly or anonymously, and receive personalized reflections on their dreams. To learn more about Dreams Cloud, please visit http://www.dreamscloud.com.
About Dreams Book Inc.
Dreams Book Inc. (DBI), a Reston, VA, based company, specializes in projects that provide social benefits and have mass appeal. The DBI team consists of experienced professionals located in the USA as well as around the globe to create value for its stakeholders through synergetic and strategic project management. DBI's flagship, DreamsCloud is a global resource which specializes in gathering, saving, and tabulating a statistical compilation of dreams. The goal of DreamsBook is to better its members' lives and those of the public through its efforts.