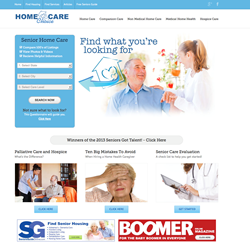 Our listings of area home care are comprehensive.
Richmond, VA (PRWEB) July 31, 2014
http://www.HomeCareChoice.com, a home services website from Seniors Guide, will feature home care and home hospice services available in areas of Virginia, North Carolina, Ohio, and Indianapolis.
"Our listings of area home care are comprehensive," says Katharine Ross, Vice President of Sales and Marketing for Seniors Guide Magazine and SeniorsGuideOnline.com.
"… Companies and agencies that offer errand services and companion care, home nursing services provided through home care are all available online," says Ross.
The new HomeCareChoice.com is also a resource in defining health care terms that may be new to visitors dealing with an aging crisis for the first time. Articles explaining the difference between hospice care and palliative care, and resources for caregivers are also available on the home care website.
Areas of Virginia include Richmond, Lynchburg, Roanoke, and Shenandoah Valley areas. In Ohio, home care and hospice services are available for Cincinnati, Columbus, and Dayton. Indianapolis and Fort Wayne areas, including Bloomington, Indiana can also be found.
For more articles, sign up for The Bulletin – a monthly email newsletter distributed by Seniors Guide and HomeCareChoice.com. For more information about The Bulletin, visit http://www.seniorsguideonline.com/get-bulletin or contact TheBulletin(at)SeniorsGuideOnline(dot)com.
To advertise your home care agency or hospice service on HomeCareChoice.com, visit https://www.homecarechoice.com/create-web-ad.
Seniors Guide, a Richmond, VA-based company, publishes Seniors Guide magazines throughout Cincinnati, Ohio; Dayton, Ohio; Indianapolis, Indiana; Raleigh-Durham, North Carolina; Richmond, Virginia; and Roanoke-Lynchburg, Virginia, and features a correlating website of http://www.SeniorsGuideOnline.com. Seniors Guide's mission is to help seniors and their families find the information they need on options available in senior housing, senior care, assisted living, independent senior living, retirement communities, and other retirement living needs. Seniors Guide also has resources at HomeCareChoice.com for Cincinnati, Ohio; Dayton, Ohio; Raleigh-Durham, North Carolina; and Richmond, VA. Ross Publishing, Seniors Guide's parent company, began in 1991 and has been publishing helpful, free publications and websites ever since.