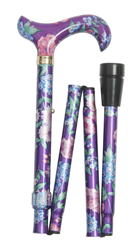 Lady Lake, Florida (PRWEB) July 31, 2014
WalkingSticksandCane.com has just received the latest shipment from Europe of Fashionable Walking Canes. The ladies will love the new European fashions and the men will love the new Blackthorn Walking Sticks. These sticks and canes are from one from one of the major manufacturers in the world located in England. Each of the styles re unique and offer the consumer the ability to have many styles to choose from.
The Blackthorn Walking Sticks are some of the rarest and most sought after walking sticks in the world. The blackthorn bush produces the wood to make these outstanding walking sticks. Each of the sticks I hand made to perfection. Every Blackthorn Stick produced each year is sold to meet the worldwide demand. If the collection is missing one of these rare wood canes now is the time to purchase the Blackthorn before the items are all sold and gone again for another season.
The ladies have an all new collection of sticks and canes to choose from. The new fashionable walking canes are very stylish and the colors are vibrant. WalkingSticksandCane.com offers many fashion canes and this year is no exception. The ladies Tea Party Styles are outstanding and come in many colors. Folding canes are becoming the norm in a ladies purse so visit all the new styles at the web page.
Adjustable walking canes have become one of the most popular canes in the collection of many women. These items have a wide variety of colors and designs to make any dress stand out in the crowd. They can adjust in length from twenty nine inches upwards to thirty nine inches.
The customer service department is always available to help in picking the correct walking stick or cane. The representatives are trained at Walking Cane College here at the warehouse.