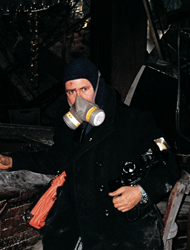 'I hope this new resource page will help shed light on 9/11-related sickness and ways to get help.' - Gary Suson
New York City, NY (PRWEB) July 31, 2014
A new guide for sick and disabled 9/11 workers has been created by Ground Zero Museum Workshop founder Gary Suson - inspired by his own health conditions after spending 7 months, 19 hours a day at Ground Zero as the Official Photographer for the FDNY Fire Union. It was inspired by his recent discovery of 11 tumors riddled throughout his body in all areas. Says Suson, "I was having pain every time I sat down and I didn't realize I had a tumor in my groin area until I went and got it checked out." Soon after, a fast growing cyst appeared in his jawline. Then, more tumors were discovered in both his arms, abdomen, breast and ribcage along with a large lump that he is currently awaiting to see if it's a lymph node. "I am hoping for the best," says Suson, who has had 5 tumors removed in the last 8 weeks. "It hasn't been a fun Summer. What concerns me is not only now but what happens in the next 30 years, both for myself and all of us that worked extensive periods at Ground Zero? Who is going to take care of us when our health is going south?"
As reported in the New York Post last week, 2500 Ground Zero Recovery workers have come down with cancer and tumors that are being linked to working at Ground Zero. The numbers are staggering. Suson spent 19 hours per day, 6 days per week at Ground Zero, amassing a voluminous collection of images dubbed "Rare Photos' by the New York Times.
Inspired by his own condition, Official Ground Zero Photographer Gary Suson has created a page on his museum website to assist sick and disabled 9/11 workers. "Having lived with COPD, PTSD and MCS (Multiple Chemical Sensitivity) for 13 years as a result of working 7 months at Ground Zero, I want other 9/11 workers to have a good source page for answers to their symptoms. I believe in a holistic approach to illness, so I am a big supporter of vitamin therapy and creating an allergy-free sleeping environment," says Suson, who has information on his page on where to find chemical-free bedding, doctors who can help 9/11-related illness and vitamins that help with compromised immune systems. "There is so much that goes into treating a disabled 9/11 worker; It isn't just one thing." Back in 2001, Gary Suson came to the attention of then-Manhattan Trustee Rudy Sanfilippo of the Uniformed Firefighters Association. Suson was acting as an intermediary between 9/11 firefighters with health issues and an environmental illness specialist in Long Island. That charity work led Sanfilippo to learn of Suson's photography skills and eventually bring him into Ground Zero to document the "Recovery Period." Suson states, "James Zadroga's heroism in the face of death paved the way for first responders complaining of illness to be taken seriously. It was clear to me long ago that his plight and medical condition was not being taken serious by those in a position of power to help him. It is sad that his death had to happen in order for those in positions of power to help thwart more deaths in the wake of 9/11."
Suson's Ground Zero Museum Workshop was recently featured on WikiBEST's Top 10 Museums in New York City as well as Trip Advisor's "Top 25 Museums in the USA" list. Says Suson, "I don't think any of us who worked extensive periods of time at WTC realized back then we were inhaling a toxic cocktail of chemicals that over time have beaten down our immune systems. These carcinogens and their long-term effects are now appearing in the most bizarre of forms, often leading to death. Personally, I don't want to wind up as a dark statistic in some long-term study of 9/11 workers, so hopefully this can all be handled by my physicians. I'm not looking for a pity party; Myself and others are looking to make sure all our present and future medical bills are covered relating to 9/11. In the meantime, I hope the new page will help others who are sick and don't really know how to get help or don't realize what is wrong with them."
Gary Suson is the founder of the non-profit Ground Zero Museum Workshop in NYC's Meatpacking District. His Museum has raised tens of thousands of dollars for both sick and disabled 9/11 Recovery workers as well as for the FDNY Foundation for the Children of Fallen Firefighters.