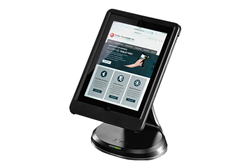 (PRWEB) July 30, 2014
ArmorActive has now released an iPad Air case compatible with their new product line Enterprise Lite™. Custom made to fit the iPad Air and integrate the industry leading technology of the Enterprise Lite™ fully integrated system that offers complete security, integration and connectivity, all while maintaining the mobility for Mobile Enterprise applications. With the release of the iPad Air case there is also the additional feature of working with the MagTek uDynamo card reader for added POS compatibility. The iPad Air case for the Enterprise Lite™ is available to order now through ArmorActive.com.
The Enterprise Lite™ line was created with iPad iOS compatibility launching first with the iPad 4 and iPad mini. Now with the launch of the iPad Air with the MagTek uDynamo attachment, this iPad case will be the first iOS Enterprise case released by ArmorActive to go with a card reader system. POS system attachments have been in high demand within the mobile tablet industry especially when it comes to how attachments will work with the cases around it. From the original design of the Enterprise Lite™ cases, this iPad Air release will continue with the industry leading technology for mobility and power integration. RFID access will be available as well as power through docking technology.
With this introduction of the MagTek uDynamo attachment, this opens up the additional POS card reader attachments to come out in the future. Mobile tablet computers, iOS and Android systems, have been quickly identified as the biggest area of growth from a point of sale system standpoint. Plugging through the audio port on the tablet these card readers are able to integrate with software that makes checking out and paying a smooth and easy service. The Restaurant and Small Business industries are seeing this impact their business the most.
Launched in May 2014 the Enterprise Lite™ and Enterprise Pro™ is the first product to come from the recent merge of ArmorActive and Mobile Technologies Inc. Wanting to move into the Mobile Enterprise industry the Enterprise Tablet line was created to set a new standard of innovation in tablet computer cases. To learn more about this new product as well as the full ArmorActive product line go to: http://www.ArmorActive.com.