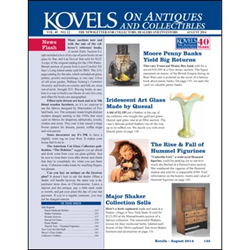 Cleveland, OH (PRWEB) July 31, 2014
Penny banks sold at a New Jersey auction are featured with pictures and prices in "Kovels on Antiques and Collectibles" August 2014 newsletter. More than 200 banks were offered, 80 from a famous collection. Penny banks sell for lots of dollars now and a rare "still" Transvaal Money Box bank, a satirical image representing an enemy of the British Empire during the Boer Wars, brought $36,000. An Ohio auction included almost a dozen pieces of Quezal art glass made in Queens, N.Y., from about 1901 to 1924. Kovels' August newsletter dazzles with pictures of opal and iridescent vases with undulating designs, most of which sold for over $1,000. The last of another major collection, this time Shaker furniture, attracted a flock of bidders to a Massachusetts auction where the top seller, at $123,000, was an herb cupboard made and used at a Shaker village in New York State. See more Shaker furniture and high-priced Shaker accessories from the sale in Kovels' latest issue.
Savvy bidders with expensive taste were able to take home vintage Hermès scarves from a Detroit auction for less-than-retail prices. Colorful examples are pictured in the August issue. Patent medicine bottles that once contained "medicinal" concoctions advertised to cure everything from diabetes to liver disease sold at a Kirkwood, N.Y. auction. Most had labels, many had original boxes and examples are pictured with prices in the August newsletter. And "Kovels on Antiques and Collectibles" nears the end of its 40th year of publication with a sale report featuring Hummel figurines and their vastly different prices "then and now."
The popular illustrated Collector's Gallery answers readers' questions about a Bull Durham Smoking Tobacco poster, Royal Bayreuth "Devil and Cards" creamer, a cheese keeper and a billiards table. New Uses for Old Stuff pictures a repurposed wood chair with spindles and legs made from spools painted and fitted onto steel rods. The August Buyer's Price Guide has current prices of 50 antiques and collectibles and also shows what's up and what's down by comparing them with prices from the August 1975 newsletter.
"Kovels on Antiques and Collectibles" is available as a print subscription or as a digital version that is part of the Kovels.com Premium subscription.
Terry Kovel is America's foremost authority on antiques and collectibles. She is the well-known columnist and author of more than 100 books on antiques and collecting. With her daughter, Kim Kovel, she co-authors the best-selling annual "Kovels' Antiques and Collectibles Price Guide." They will discuss antiques and collectibles topics with accredited media. Photographs are available. Contact pr(at)kovels(dot)com.
About Kovels.com
Kovels.com, created by Terry Kovel and Kim Kovel, provides collectors and researchers with up-to-date and accurate information on antiques and collectibles. Kovels' Antiques was founded in 1953 by Terry Kovel and her late husband, Ralph. Since then, Kovels' Antiques has published some of America's most popular books and articles about antiques, including the best-selling "Kovels' Antiques and Collectibles Price Guide," now in its 46th edition. The Kovels' website, online since 1998, offers 900,000 free prices, and includes a free weekly email, "Kovels Komments." Kovels.com gives readers a bird's-eye view of the market through the latest news, auction reports, a Marks Dictionary, readers' questions with Kovels' answers and much more.
Contact Information:
Liz Lillis
216.752.2252
Pr(at)kovels(dot)com